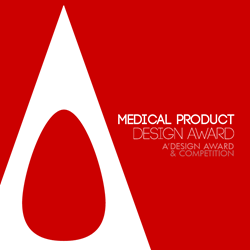 COMO, Italy (PRWEB) January 31, 2018
The A' Scientific Instruments, Medical Devices and Research Equipment Design Awards is an annual event that admits submission from all around the World by industrial designers, scientific instrument manufacturers, medical device producers and research equipment brands. Medical design projects that were proposed and completed within the last 10 years are eligible to be nominated. The A' Worldwide Medical Design Competition is presented in several different sub-categories such as scientific instrument and research equipment, high-tech medical devices, well designed medical goods and re-enable design.
Once submissions are admitted, a panel of qualified juries will judge the product projects for both their technical content and their artistic creativity. Juries will be looking forward to select product designs which have a capacity to influence medical design professionals worldwide towards the creation of unparalleled and original designs. Entries to the A' Medical Design Awards will be judged and voted against predefined valuations criteria such as innovation, ergonomics, society benefits, functionality, sustainability, creative approach and excellent use of space.
Late deadline for nominations to the A' Medical Design Awards is on February 28, 2018. Winners of the A' Medical Design Awards will be horned the design excellence certificate, lifetime license to use the winner logo, yearbook of best designs and exclusive design award trophy. In addition, successful designer will receive a a series of PR, marketing and publicity tools to celebrate the status of winning the Medical Product Awards 2018 together with inclusion in World Design Rankings, Designer Rankings, Medical Product Design Classifications and Design Legends platforms.
About A' Design Award and Competition
The A' Design Award and Competition has been established to highlight the best design projects and promote them in all countries and in all creative disciplines. The main aim of the A' Design Award and Competition is to create a global awareness and understanding for good designs, hence A' Design Awards is aiming to push designers, companies and brands worldwide to develop superior products that benefit society. Interested parties may find more details on the accolade at http://www.designaward.com