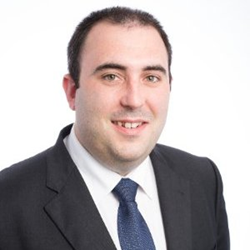 CORK, Ireland (PRWEB) February 06, 2018
capSpire has expanded its European presence with the addition of Paul Norris as Managing Director, Analytics. In this role, Paul will spearhead the expansion of capSpire's analytics practice in Europe, and will set and execute this strategy for European clients. Paul is based in Cork, Ireland.
"I'm delighted to welcome Paul to the senior-management team at capSpire to lead our rapidly growing analytics and data business. He brings a wealth of experience in creating and managing award-winning, high-performance teams, and has expert knowledge across the commodities space. He specializes in advanced analytics and data management, and understands the increasing compliance challenges that many of our clients face," said Dave Webb, Managing Director. "At capSpire, we are committed to driving value for our clients through specialist advisory and delivery services, and Paul's appointment will help us continue to deliver on this commitment."
"I am very excited to join capSpire and have the opportunity to lead the growth of the analytics practice in Europe. I look forward to working closely with my new colleagues in both the U.S. and European offices, and to meeting with existing and prospective clients in the coming months, to discuss innovative ways capSpire can continue to add value to businesses through advanced analytics solutions," said Paul Norris.
Paul's passions are rooted in analytics. An industry leader in this area, Paul's prior appointments include senior roles advising clients on analytics strategy and architecture, developing optimization and forecasting tools, implementing various facets of data science, and integration of analytics solutions into third-party systems. He enjoys advising clients on emerging trends, and brings more than 10 years of experience to each interaction. Paul holds a Master of Science (MSc) in Renewable Energy Systems Technology from Loughborough University and a Bachelor of Engineering (BEng) in Mechanical Engineering from the University of Limerick.
About capSpire
capSpire provides the unique combination of industry knowledge and business expertise required to deliver impactful business strategies and solutions. Trusted by some of the world's leading companies, capSpire's team of industry experts and senior advisors enables clients to effectively streamline business processes and attain maximum value from their supporting IT infrastructure. For more information, please visit http://www.capspire.com.