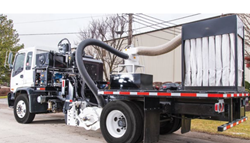 "We're thrilled to showcase our new Plunge Cutting Truck in our hometown at the 2018 Pavement Expo."
CLEVELAND (PRWEB) February 06, 2018
Cleveland welcomes the National Pavement Expo February 7-10 at the Huntington Convention Center. Elyria-based Dynatech, the premier pavement marking tool and equipment company will exhibit at Booth #1427. The booth will feature several new products including the Dynatech Plunge Cutting Truck and the latest the PCD Dyna Cutterz. Glenn Mahaffrey Jr. shares, "Our Polycrystalline Diamond (PCD) Cutting System performs 2-3 times faster than diamond saw blades, lasting twice as long and are half the cost to replace."
Dynatech is proud to sponsor The Tailgate Lounge at the preview party on Wednesday, February 7 from 4:30-6:30. The Dynatech Plunge Cutting Truck will be on site for viewing along with entertainment, complimentary food and beverages and more. VIP Invites including free admission to the exhibit hall are available.
90% of all raised pavement markers in and outside the US are installed using Dynatech diamond saw blades and equipment. To learn more about Dynatech and their products visit http://www.dynatech.com.