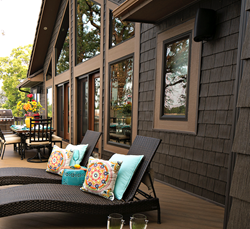 Signature Stain created by Tando, wihich looks identical to stained wood, is the perfect answer to the market demand for mixed material exteriors - Ralph Bruno, CEO of Derby Building Products
QUEBEC CITY, QUEBEC (PRWEB) February 05, 2018
Signature Stain Shake created by Tando is the latest new product introduction from Derby Building Products. Utilizing a proprietary manufacturing process that integrates a real semi-transparent wood stain into Tando's Rustic Cedar 6 Shake delivering a look that is identical to actual stained wood shakes without any of the required upkeep. Signature Stain was recently introduced at the International Builders Show in Orlando in January.
"Signature Stain created by Tando is the perfect answer to the market demand for mixed material exteriors," said Ralph Bruno, CEO of Derby Building Products. "It is impervious to moisture, so it's ideal for gables and dormers right up to the roof line."
With an unmatched 50-year Performance Plus Warranty, Signature Stain products are available in three stain colors taken from nature: Fawn, Bark and Acorn. The lightweight design, resistance to high winds, and fast, one-person installation makes it a win for pro builders, remodelers and installers. Signature Stain Shake is available in 8 ft. lengths in single course profiles and is installed with mainstream tools.
To learn more about Signature Stain created by Tando, TandoShake and TandoStone, visit http://www.tandobp.com. Learn more about Novik's product lines at http://www.novik.com.
About Derby Building Products – Home of Tando and Novik
Derby Building Products is the parent company of two game-changing brands in the building products category – Tando and Novik. Tando – Derby's Pro-Channel brand – has harnessed the most advanced technologies in the industry and has literally changed the face of building exteriors by replicating the natural beauty and texture of wood shake and stone, with little to no upkeep. Impervious to moisture and resistant to all types of weather, new Beach House Shake created by Tando is indistinguishable from real cedar, while Tando's Signature Stain line offers the rich depth and beauty of stained wood. Perfect for today's mixed material trend in exteriors, all Tando products complement an array of siding types including fiber cement, engineered vinyl, stucco, and brick. http://www.tandobp.com
About Novik - Derby's Do-It-Yourself Brand
Novik inspires stunning mixed material exteriors including shake, clapboard, brick and stone. Novik replicates the natural beauty and texture of wood and stone. It's so simple to install, like having someone guide you as you go. For more information, visit http://www.novik.com