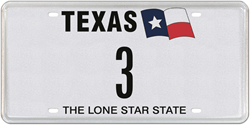 There are only nine single-digit number plate messages possible, which makes both 3 & 8 very rare in Texas
AUSTIN, Texas (PRWEB) February 05, 2018
MyPlates.com, the state's vendor for marketing specialty and personalized license plates in Texas, has revealed the plate messages to be auctioned during their first single-digit license plate auction. The rare low digit numbers of "3" and "8" will be auctioned as well as the tenth letter of the alphabet "J".
Fun facts for the number "3":

"3" was Joe Montana's number when playing for Notre Dame.
Dale Earnhardt drove the #3 car.
It is the first odd prime number in mathematics.
In science, the Roman numeral three stands for a giant star.
It is considered a good number in Chinese culture because it sounds like the word "alive".
The phrase "third time's the charm" refers to the superstition that after two failures in any endeavor, a third attempt is more likely to succeed.
For those that are interested in numerology, then those that walk a Life Path with the Number "3" have unlimited creativity and almost superhuman abilities.
Fun facts about the number "8":

The number "8" has no ending and loops back upon itself, thus represents Infinity and everything good in the universe which is infinite, such as infinite love, infinite supply, infinite energy and infinite time. In other words, "8" represents complete and unending abundance.
"8" was the number worn by TCU legendary QD Davey O'Brien, for whom the nation's top quarterback award is named after.
"8" was also worn by Cowboys Hall of Fame QB Troy Aikman.
The number "8" is considered to be a lucky number in Chinese and Asian cultures, because it sounds like the word meaning to generate wealth.
Fun facts about the letter "J":

It is the 10th letter in the modern English alphabet.
In English, it is pronounced jay.
The "J" can be used as a smiley face icon in the wingdings font. 
"J" is a high-level general-purpose programming language developed in the 90's
"J" is the metric system's symbol for a "joule" energy unit.
Its origin stems back to Roman Numerals as a swash letter I and was added to the Italian language during the early 1500's.
"We are truly excited to make available to the market these three rare single-character license plates by auction for the first time" said Steve Farrar, President of My Plates.
The auction is now active and bids are being accepted. Texans wishing to bid can register at http://www.MyPlates.com/auction. The auction will close on February 28th, 2018.
Auction Details:
My Plates First Single-Digit Auction dates:

Begin Bid Date: Thursday, 02-01-18
End Bid Date: Wednesday, 02-28-18
The winning bidders of these rare license plate messages, "3", "8" and "J" will own the right to their plate pattern for 5 years, with first dibs on renewing it at the state's everyday pricing. That means once the message is won at auction, it may not become available to the market for a long time or even could be gone forever!
Unlike other Texas license plates, plates sold by My Plates at auction are legally transferable. The plate owner then has the right to sell the plate message to another person with the same ongoing rights or gift it to a family member or friend. Transferability also means these plates could make great investments.
To find out more information about the auction, simply visit My Plates home page or visit http://www.myplates.com/auction.
____________________________________________________________
Most Expensive License Plate Facts:

Most Expensive Plate in the World – UAE plate "1" sold for $14.3M, February 2008.
Most Expensive Plate in U.S.A: Delaware plate "6" sold for $675,000, February 2008
Most Expensive Plate in Texas: 12THMAN sold $115,000, September 2013.
____________________________________________________________
My Plates designs and markets new specialty license plates as a vendor for the Texas Department of Motor Vehicles. Texans have bought more than 350,000 My Plates since November 2009, putting more than $62M in the state general revenue fund. My Plates' goal is to create a long-term, mutually beneficial relationship designed to maximize revenues for the state through the sale of My Plates specialty plates. http://www.myplates.com.
The Texas Department of Motor Vehicles (TxDMV) serves protects and advances the citizens and industries in the state with quality motor vehicle related services. For every $1 it spends, the TxDMV returns $11 to the state. The agency currently registers 24 million vehicles; issues more than 7 million vehicle titles; licenses more than 38,000 motor vehicle dealers and distributors; credentials nearly 60,000 motor carriers; issues more than 800,000 oversize/overweight permits; investigates more than 15,000 complaints against dealers and motor carriers; and awards grants to law enforcement agencies to reduce vehicle burglaries and thefts. Learn more at http://www.TxDMV.gov.
Contact Steve Farrar at (512) 633-7978 or steve@myplates.com