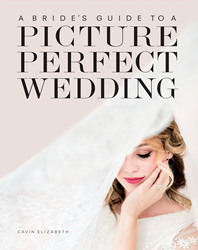 "While hiring a skilled photographer is key, my goal is to walk couples through the simple changes that can elevate the beauty of their wedding day photography."
SAN DIEGO (PRWEB) February 26, 2018
San Diego wedding photographer, Cavin Elizabeth Urquhart will be releasing her first book, A Bride's Guide to a Picture Perfect Wedding, this week.
"This has been three years in the making and I am thrilled to see it come together in time for engagement season," shares Urquhart, whose own portfolio is featured throughout the publication.
Within the pages, Urquhart expands on carefully designing one's wedding plans with the photography in mind- from how to select your dream photographer and preparing for the engagement session to creating an ideal timeline. The easy-to-follow book focuses on the three major components of the wedding timeline, guiding brides from the planning months to the Big Day itself, and the days following.
"While hiring a skilled photographer is key, my goal is to walk couples through the simple changes that can elevate the beauty of their wedding day photography," adds Urquhart.
The release on Amazon follows a recent launch party at The Dress Theory in San Diego.
"While I am distributing the book nationally, I knew that I wanted to start the celebration here in San Diego among my friends and colleagues, who have lent a tremendous amount of support," says Urquhart.
For more information, please visit- https://www.amazon.com/Brides-Guide-Picture-Perfect-Wedding/dp/0999571907.
About Cavin Elizabeth
Cavin Elizabeth is a modern style wedding and portrait photographer based in San Diego, CA. More information regarding her upcoming book, as well as her wedding photography services, can be found at https://www.cavinelizabeth.com/.