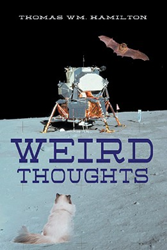 "Once again Thomas Wm. Hamilton has loosed his imagination to reach the farthest bounds of the universe." - Robert Fletcher, CEO of Strategic Book Publishing and Rights Agency
(PRWEB) February 09, 2018
Imagine a future where wars are fought by highly evolved and intelligent animals. Warriors include monkeys, raccoons, dolphins, dogs, cats, etc.
How about an alternate world where a murder victim gets justice by a relative traveling through time? Or perhaps a tale about Halley's Comet? In another story, teenagers discover the importance of Spell Check while doing magic. What could possibly go wrong?
The 17 far-flung stories featured in Thomas Wm. Hamilton's latest book Weird Thoughts span the years 1912 to 50 million years in the future, and include the genres of science fiction, fantasy, satire and more.
There are also seven fascinating essays on astronomy written by the author, a former astronomy professor. The possibilities are endless.
"Once again Thomas Wm. Hamilton has loosed his imagination to reach the farthest bounds of the universe. We are thrilled to announce his latest work," stated Robert Fletcher, CEO of Strategic Book Publishing and Rights Agency.
About the Author: Thomas Wm. Hamilton of Staten Island, New York, has written 12 books on astronomy, science fiction novels, and an anthology of science fiction, fantasy, horror, and satire. After working on the Apollo Project, the author taught college astronomy for 34 years at three colleges, while running planetariums and training students to enter the planetarium field. After retiring in 2003, he has been writing ever since.
WEIRD THOUGHTS (ISBN: 978-1-946540-77-5) is now available for $11.50 and can be ordered through the publisher's website:
http://sbpra.com/ThomasWmHamilton/ or at Amazon.com or Barnesandnoble.com.
WHOLESALERS: This book is distributed by Ingram Books and other wholesale distributors. Contact your representative with the ISBN for purchase. Wholesale purchase for retailers, universities, libraries, and other organizations is also available through the publisher; please email bookorder@sbpra.net.