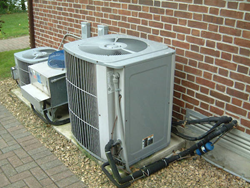 It's a good idea for people to check out their AC early to avoid surprises."
PASO ROBLES, Calif. (PRWEB) February 10, 2018
Common Things Overlooked In Air Conditioning Systems
In a region where summer temperatures reach triple-digits a working air conditioning (AC) not only provides comfort, it can make a difference for people with compromised health. The Mayo Clinic lists lack of air conditioning as one of the causes contributing to heat exhaustion.
The simplest test is to turn on the AC to make sure it's working. If not, the problem could be something as simple as a blown fuse or a tripped circuit breaker. AirRite, the company that provides air conditioning and heater repair in Atascadero, encourages people to check their air conditioning systems for any problems in the following areas.
A faulty thermostat: Check the manual to make sure the settings are correct for the type of thermostat. Set the thermostat to the lowest temperature. If the AC still doesn't come on call your HVAC repair specialist.
Leaking refrigerant fluid: The first signs of a leak is usually warm air instead of cool. An HVAC specialist can repair leaks and recharge the refrigerant.
Frozen evaporator coils: The evaporator coil is filled with refrigerant and absorbs heat from the air. The coils need air circulating around them. When something interrupts the airflow, the coil gets too cold and ice builds up on the outside.
Dirty condenser coils: Condenser coils get rid of the heat removed from the air by expelling it outside the building. If the coil gets dirty heat transfer is impeded. There is a chance that a dirty condenser coil might be hot to the touch. To avoid injury, consider calling the experts, AirRite, to check the coils and have necessary AC and heater repair for Atascadero climate done at the same time.
Fan problems: One fan that blows indoor air over the evaporator coil to for cooling, another blows air over the condenser to expel warm air. A faulty motor, lack of lubrication, worn belts or debris can cause problems with the fans and can lead to compressor failure.
Leaking ducts: The ducts running through walls and ceilings carry cooled air from the air conditioner. Leaky ducts discharge air inside the walls instead of to where its needed.
Clogged drains: The moisture that an air conditioner removes from the air is goes through a drain line into a pan and down a drain. If the line or drain gets clogged or the pan gets full, water backs up, damages the system and leak into walls, ceilings and furnishings.
Air Rite is the company for AC maintenance and heater repair in Atascadero and the Central Coast. Founded in 1983, Air Rite has provided quality service throughout San Luis Obispo, Monterey and Santa Barbara counties. Founder Rick Johansen and son, Arne Johansen, have repeatedly proved the expertise of Air Rite by performing quality work at an honest and fair price.
Air Rite
5001 Traffic Way
Atascadero, CA 93422
(805) 461-3303
Press release by Atascadero SEO company Access Publishing, 806 9th Street, #2D, Paso Robles, CA 93446. (805) 226-9890.