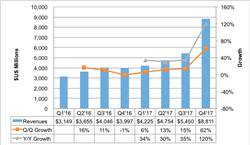 AUSTIN, TEXAS (PRWEB) February 12, 2018
Display Supply Chain Consultants (DSCC) has published Q4'17 OLED shipment, revenue and market share results. As expected, OLEDs had a record quarter in Q4'17 on a significant jump in panel shipments for the Apple iPhone X and for OLED TV panels during the holiday season. As shown in Figure 1, OLED panel revenues rose 62% Q/Q and 120% Y/Y in Q4'17 to a record $8.8B. For 2017, OLED revenues grow 57% to $23.2B.
By application on a revenue basis, smartphones gained share in Q4'17 as shown in Figure 2, reaching 90.2% of the smartphone market at $7.95B. For the year, smartphones accounted for $20.3B out of the $23.2B market or 87.4%, up from 86.7% the prior year. OLED TV panel revenues rose 35% Q/Q and 51% Y/Y in Q4'17 to $438M and a 5.0% share, down from 6.0% in Q3'17. For the year, OLED TV panels were the second largest OLED application on a revenue basis with a 5.6% share and generated $1.3B in revenues, up 49% Y/Y. Smart Watch panels were the 3rd largest application in 2017 with a 3.2% share. No other application accounted for more than a 2% share due to the dominance of smartphones. On an area basis, it was much closer with smartphones leading with a 64% to 33% advantage over TVs for 2017.
By panel supplier, Samsung earned a 90.1% share in Q4'17 on $7.9B in revenues as shown in Figure 3, up 63% Q/Q and 222% Y/Y. It was followed by LG Display at 8.8% in Q4'17 and 8.6% for the year. Although six other suppliers earned OLED revenues, no other supplier had more than a 0.5% share in Q4'17 or for the year. Despite their low share, Chinese OLED suppliers did enjoy strong growth, up 98% to $278M and are expected to jump 177% in 2018 to $771M. On a unit basis, China's OLED shipments rose 124% to 11.7M and are expected to rise 143% in 2018 to 28.4M.
The report also tracks shipments and share by customer. Samsung was the leading OLED brand in 2017 with a 47% share on over $10B in OLED panel procurement. Apple was second with a 29% share. In Q4'17, Apple led with a 52% share with Samsung at 30% due to the iPhone X ramp. LG was the #3 brand with a 5% share. Apple is expected to lead in 2018 as well followed by Samsung and LG.
The report also tracks OLED form factor covering rigid vs. flexible and soon foldable and rollable. On a revenue basis, flexible OLEDs led rigid OLEDs in revenues on an all application basis for the 3rd consecutive quarter as shown in Figure 4, reaching a 75% share in Q4'17 on 100% Q/Q growth to $6.6B. For 2017, flexible revenues outpaced rigid revenues with a 59% to 41% share advantage on 251% Y/Y growth with rigid revenues down 14%. In just smartphones, flexible OLEDs reached a 48% unit share in Q4'17, up from 33%, helped by the iPhone X ramp. On a $US basis, the higher priced flexible OLEDs had an 80% share in Q4'17, up from 66% on 104% growth to $6.4B.
In terms of the OLED smartphone market in Q4'17, shipments rose 31% Q/Q and 24% Y/Y to 123M, a record high with rigid shipments at 63M and flexible shipments at 60M. 5" was the leading rigid size while 5.8" was the leading flexible size and leading size overall led by iPhone X shipments. Samsung was the leading customer on a unit basis with a 49% share followed by Apple at 29% and Oppo and Vivo at 7% shares respectively as shown in Figure 5. Samsung was also the leading panel supplier in Q4'17 with a 96% unit share followed by LG Display with 2%.
While the flexible OLED smartphone growth was extremely impressive, OLED TV panel growth was also impressive in Q4'17. OLED TV panel shipments rose 41% Q/Q and 106% Y/Y to 635K units with 55" 4K leading with a 66% share followed by 65" 4K with a 28% share. On a revenue basis in Q4'17, OLED TV panels rose 35% Q/Q and 51% Y/Y to $438M with 55" 4K holding a 53% share and 65" 4K holding a 41% share. For all of 2017 on a revenue basis, we show 65" 4K holding a slight 46% to 45% share advantage over 55" 4K. By customer, LGE was the #1 OLED TV brand at every size and resolution for the year and for Q4'17 on both a unit and revenue basis. It enjoyed a 72% unit share overall for the year followed by Sony at 14%.
This report also tracks fab utilization and does show a significant drop at Samsung Display due to over-reliance on a single model from a single customer who is unlikely to lower prices due to significant pricing power. While OLED revenues are currently forecasted to drop 29% Q/Q to $6.3B, it will still represent a 48% Y/Y increase. In addition, in Q3'18 OLEDs are expected to establish a new record high as OLED penetration increases into new smartphones as OLED prices fall. DSCC's Quarterly OLED Shipment and Fab Utilization Report tracks monthly OLED and LTPS LCD fab utilization and forecasts OLED shipments by application, form factor, size, resolution, panel supplier and customer through 2022. For more information, please contact Dustin at dustin(at)displaysupplychain(dot)com and (832) 451-4909.
About DSCC
Display Supply Chain Consultants (DSCC) was formed by experienced display market analysts from throughout the display supply chain and delivers valuable insights through consulting, syndicated reports and events. The company has offices in the US, Japan, and China. They can be found on the web at http://www.displaysupplychain.com and can be reached in the US at info(at)displaysupplychain(dot)com or (512) 577-3672.