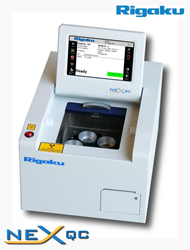 AMSTERDAM (PRWEB) February 14, 2018
Applied Rigaku Technologies, Inc. (ART) is pleased to announce its attendance at the 18th annual AWA Global Release Liner Industry Conference & Exhibition, taking place Wednesday, February 14, 2018 to Friday, February 16, 2018 at the Hilton Amsterdam in Amsterdam, The Netherlands. The event is presented by AWA (Alexander Watson Associates) and is the only Conference dedicated to the release liner industry.
A release liner is a paper or plastic-based film sheet, coated with a release agent typically applied during the manufacturing process, used to prevent a sticky surface from permanently adhering. The 2018 conference will provide insights into release liner markets and applications, highlighting opportunities across the release liner value chain, and all silicone and related pressure sensitive technologies.
The ART division is presenting its NEX QC Series of energy dispersive X-ray fluorescence (EDXRF) bench top analyzers and will be giving a preview of its soon to be released NEX LS Linear Scanner for cross and down web profiling of Si coated paper and plastics. EDXRF is employed to measure the silicone (Si) coat weight on paper and plastics used in the converting and release industries.
Additional information about Rigaku EDXRF solutions for silicone coating thickness and composition analysis is available at https://www.rigakuedxrf.com/paper.php.
About Rigaku
Since its inception in Japan in 1951, Rigaku has been at the forefront of analytical and industrial instrumentation technology. Rigaku and its subsidiaries form a global group focused on general-purpose analytical instrumentation and the life sciences. With hundreds of major innovations to their credit, Rigaku companies are world leaders in X-ray spectrometry, diffraction, and optics, as well as small molecule and protein crystallography and semiconductor metrology. Today, Rigaku employs over 1,400 people in the manufacturing and support of its analytical equipment, which is used in more than 90 countries around the world supporting research, development, and quality assurance activities. Throughout the world, Rigaku continuously promotes partnerships, dialog, and innovation within the global scientific and industrial communities.
For further information, contact:
Robert Bartek, President
Applied Rigaku Technologies, Inc.
tel: +1. 512-225-1796
info(at)RigakuEDXRF(dot)com