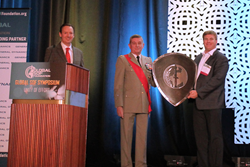 "Many of these leaders are rising stars in their national militaries or governments."
TAMPA, Fla. (PRWEB) February 14, 2018
The Global Special Operations Forces (SOF) Symposium - US, hosted by the Global SOF Foundation annually in Tampa, Fla., traditionally features a Lifetime Achievement Award Ceremony. During this event, an impactful individual from the global SOF community is honored for their contributions to special operations--past recipients include Admiral (Retired) William H. McRaven, U.S., General Sir Adrian Bradshaw, U.K., and General Benoît Puga, France.
At this year's event, two men will be honored, both of whom were integral to the development of SOF in their home nations and have continued to contribute to the community throughout their storied careers.
Ambassador Pedro Morenés, Spanish Ambassador to the United States and Former Minister of Defense for Spain, will receive the Lifetime Achievement Award following his Keynote Remarks on the afternoon of Feb. 20. In 2014, during his tenure as Spain's Minister of Defense, Ambassador Morenés established Spain's Joint Special Operations Command.
Staff General Talib Shigati Mshari Al Kenani, the Commander of the Counter Terrorism Service - International (CTS-I) for Iraq, will receive the Lifetime Achievement Award on the evening of Feb. 20. Staff General Al Kenani directs all efforts in counter terrorism strategy for Iraq and current combat operations within Iraq against the Islamic State of Iraq and Syria. General Al Kenani will also participate in a panel, "Intelligence Sharing in Partnered Operations," during the Symposium.
The Symposium takes place at Innisbrook Golf and Spa Resort in Palm Harbor, Fla. from Feb. 19-21. The Lifetime Achievement Awards are just one of many reasons to attend the Symposium--the packed agenda of events also include engaging speaking events and an abundance of networking opportunities.
On Feb. 19, the Symposium kicks off with a SOF for Life Seminar, a Global SOF Golf Tournament, and a welcoming reception. The evening will also feature a Global SOF Foundation Corporate Partner-only Chairman's Reception with the Chairman of the Board, Mr. Peter Bergen.
The next two days feature substantive events, including an opening Senior Leader Conversation with Mr. Derek Maltz, who was the Special Agent in Charge of the U.S. Department of Justice Drug Enforcement Administration, Special Operations Division. Other speakers include the Commander of Marine Corps Forces Central Command, Lieutenant General William Beydler, the Vice Minister of Defense for Lithuania, The Honorable Vytautas Umbrasas, and the European Military Staff Director of Operations, Major General Daniel Grammatico.
"Many of these leaders are rising stars in their national militaries or governments," said Global SOF Foundation President and CEO, Colonel (Retired) Stu Bradin.
See the full list of speakers and register for the Symposium at https://www.globalsofsymposium.org/us/Attend/Register
------------
The Global SOF Foundation is a 501(c)(3) non-profit organization and the only professional association for the international Special Operations community. The Foundation mission is to both advocate for SOF resourcing and convene the SOF community.