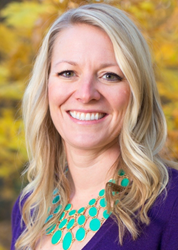 FITCHBURG, Wis. (PRWEB) February 19, 2018
Dr. Angela Cotey now invites pediatric patients from Fitchburg, WI, for orthodontics, with or without a referral. Dr. Cotey raises awareness for interceptive, or early, orthodontics and its benefits for pediatric patients. A respected Wisconsin dentist, Dr. Cotey offers comprehensive family dentistry at her practice, Village Smile Care, in Mount Horeb, WI.
A child's first permanent teeth will begin to erupt around the age of seven. At this time, crowding and other problems with the bite can begin to occur, though at this age it is still possible to know the projected growth of the teeth and jaw. If not monitored, however, development and growth of the teeth and jaw bone will continue naturally, even if this leads to complications that may require years of braces or even jaw surgery. Children whose baby teeth are lost late or early, suck their thumbs, have difficulty biting, chewing, or speaking, or have early signs of tooth misalignment can benefit from early orthodontics.
Early orthodontics begins when a child still has primary teeth. As the child grows, a dentist like Dr. Cotey can monitor the development of the jaw and eruption of permanent teeth. Early intervention can help correct harmful oral habits, intercept abnormal developments in growth, and guide the jaw bone's growth for the best accommodation of permanent teeth. Early orthodontics has multiple benefits, including lowering the risk for tooth damage, improving facial appearance, establishing a good foundation for permanent teeth, and helping enable correct biting and chewing. With this intervention, a child who needs braces in the future will have fewer issues to correct and a jaw that is can more readily house full sets of permanent teeth.
Dr. Cotey provides full orthodontic care at her dental practice, including traditional braces, Invisalign® and Six Month Smiles®. With a focus on preventative care, she provides pediatric patients with early intervention orthodontic care to help ensure the development of their teeth and jaw is on track as they grow. Children who receive care from Dr. Cotey from a young age will be monitored throughout their growing years until the proper time for traditional braces treatment.
Dr. Cotey now welcomes pediatric patients from Fitchburg, WI, for orthodontics and early intervention. Parents looking for a new pediatric dentist can call the practice at 608-433-2102 or visit http://www.villagesmilecare.com.
About the Doctor
Dr. Angela Cotey is a general dentist offering personalized dental care to patients in Mount Horeb, WI. Dr. Cotey and her entire team take pride in offering the latest advancements in dentistry and dental technology to ensure each patient enjoys a comfortable experience with long-lasting results. Dr. Cotey combines advanced dentistry with a fun and friendly style. She is a member of numerous professional organizations including the American Dental Association, the Wisconsin Dental Association, American Academy of Cosmetic Dentistry, Fellow in the Academy of General Dentistry and current President of the Wisconsin Dental Study Club and Madison Dental Progress Forum. To learn more about Dr. Cotey or the services she offers, please visit her website at http://www.villagesmilecare.com or call 608-433-2102 to schedule an appointment.