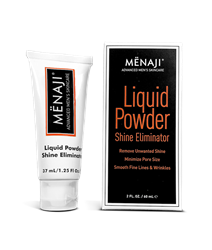 It's simple. When under pressure, Liquid Powder Shine Eliminator helps you appear calm in the face of stress. No need to let them see you sweat!
NEW YORK (PRWEB) February 20, 2018
MENAJI Advanced Men's Skincare has solved yet another men's grooming problem with their newest groundbreaking product, Liquid Powder Shine Eliminator (LPSE). Known best for their undetectable concealers and skin tone pressed powders for men, MENAJI has led the men's grooming industry with pioneering products since 2000. With their latest product debut, now shiny skin can be completely eliminated from the head, face and body, without any dryness or flaking.
LPSE uses healthy ingredients specifically targeted to minimize redness, inflammation and oil production in men's skin including Aloe Vera, Green Tea Leaf, Shea Butter, and natural Silica (which naturally absorbs moisture and reflects light). Meant to be used alone or under MËNAJI Urban Camouflage® concealers and HDPV Anti-Shine powders, LPSE absorbs excess oil and knocks out shine to deliver a soft, ultra matte finish without drying the skin.
Other key benefits include:

Refines Pores -- minimizes the appearance of large pores
Long lasting, lightweight, concentrated cream
100% transparent, undetectable finish
Perfect for all over useage – face, head, and body
Won't clog pores, cake or create buildup
Smoothes appearance of fine lines
Can be used as primer under makeup or other products
MENAJI President Pamela Viglielmo says, "While men's make up and grooming is now all the trend, we've never been about following trends – instead, we make products that deliver results and solve men's skincare issues. We developed LPSE to solve a common appearance problem and help men achieve greater confidence with flawless, sweat free, non-shiny skin."
Used by professionals on camera -- think actors, athletes, on air TV talent -- or just regular guys at the office. "It's simple. When under pressure, Liquid Powder Shine Eliminator helps you appear calm in the face of stress. No need to let them see you sweat!"
Liquid Powder Shine Eliminator comes in a TSA approved 2 oz tube and retails in stores and online for $36. It is sure to become an essential part of every man's grooming routine.
About MENAJI MENAJI Advanced Men's Skincare is a world-class men's beauty/grooming brand, specializing in fast-acting products for shave and skin plus corrective cosmetics made with natural botanicals. MENAJI provides the ideal regimen for men with problem-solving solutions that break the mold. MENAJI is made in the USA, sold in America and overseas in more than 20 countries.
For more information visit http://www.menaji.com, follow MENAJI @MenajiSkincare on Twitter, @menaji_skincare on Instagram or Menaji Advanced Men's Skincare on Facebook. Or email media(at)menaji(dot)com.
MENAJI is also a dedicated partner of the #SaveWater campaign which aims to provide third world countries with access to clean water. Our goal, to reduce the use of water in men's grooming globally.
Customer/Professional Testimonials...
"The liquid powder shine eliminator is my go-to primer before I apply foundation, or concealer on men. So much of my job is about trying to put a stop to that excess shine that can show up on the red carpet or on photo shoots and this product provides such an amazing mattifying base to avoid that," Simone Freund Grooming at EA/MGMT Los Angeles, top groomer to Hollywood actors and recording artists
"Thanks to my friends at MENAJI for their Liquid Powder Shine Eliminator for the SNYTV makeup room. No shiny foreheads here!" Alison Raffaele, NYC, groomer to top male athletes and models and newscasters