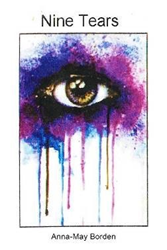 "This heart-breaking true story shows the best and the worst sides of growing up. At its heart is the power and resilience of the human spirit." - Robert Fletcher, CEO of Strategic Book Publishing and Rights Agency
(PRWEB) February 20, 2018
No child should have to grow up like this.
It took author Anna-May Borden four years to complete her life-affirming memoir. "I relived each and every incident throughout the book, making it emotionally impossible to continue. I set it aside until I could build up the courage to continue."
"Nine Tears" represents the nine abandoned children in her family, nine young souls left behind by Anna-May's mother, a 16-year-old who was raped by a 32-year-old man who gave her a baby each year until she bore nine children. Unable to take any more pain, she left her children behind with their abusive father.
Anna-May and her sister Shirley protected and raised their mixed-race siblings without any help. Despite broken bones, the author did the best she could. When her father left them to freeze one winter in their secluded rural house, a good Samaritan saved their lives by calling authorities.
"This heart-breaking true story shows the best and the worst sides of growing up. At its heart is the power and resilience of the human spirit. We are pleased to be the publisher of this stunning autobiography," stated Robert Fletcher, CEO of Strategic Book Publishing and Rights Agency.
Watch the video book trailer at: https://youtu.be/VY7R4MOvSaA
About the Author: First-time author Anna-May Borden grew up in Montreal, Canada, and now lives in Brooksville, Florida. She has operated retirement homes, worked with the socially challenged, and taught autistic children. "My whole life is serving, and this is who I am." She added, "There were 'Nine Tears,' but we all survived. I realized from a young girl that my friends' lives were so different from mine. They had love and caring parents, which was so absent in our home."
NINE TEARS (ISBN: 978-1-68181-518-3) is available for $35 and can be ordered through the publisher's website:
http://sbprabooks.com/AnnaMayBorden or at Amazon.com or Barnesandnoble.com.
WHOLESALERS: This book is distributed by Ingram Books and other wholesale distributors. Contact your representative with the ISBN for purchase. Wholesale purchase for retailers, universities, libraries, and other organizations is also available through the publisher; please email bookorder(at)sbpra.net.