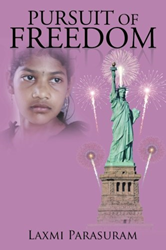 "A universal search for understanding the complex web of life, finding meaning in relationship, and finally releasing oneself from suffering." - 5-Star Amazon Review
(PRWEB) February 22, 2018
How in the world does a 12-year-old girl from 1940s India escape her culture's demand for an arranged marriage, and instead end up on a radical 1960s American campus?
At 12, Maya rebels against her family in pursuit of freedom. In this insightful novel, she refuses marriage, escapes home to get an education in a Catholic boarding school, and ultimately lands in America of the 1960s, when cultural protests against the Vietnam War are raging. Now a woman, she finally understands the difficulties that come with a break in tradition.
"A richly imagined and deeply felt testimony to the timeless human impulse that informs all our lives." – Dr. Robert Hamburger, Professor of English, New Jersey City University
"A universal search for understanding the complex web of life, finding meaning in relationship, and finally releasing oneself from suffering. Maya, the main character, never quite achieves this goal, but then, who does? In India, where she grows up, she is constantly suffocated by norms, customs, prejudices, and the mundaneness of existence … As she ventures out of India as an adult, she arrives in America full of hope in finding what was missing in her life in India … Disillusioned, Maya continues her search for meaning, finally coming to terms with God in her own way." – 5-Star Amazon reviewer
About the Author: Earning an M.A. from Bombay University and a Ph.D. from the University of Kentucky, Laxmi Parasuram is a retired professor of English and American literature in India. She was presented a Visit Award from the British Council as well as American Fulbright post-doctoral fellowships. The author is currently active in national and community associations in Calcutta.
The compelling book PURSUIT OF FREEDOM (ISBN: 978-1482874-91-4) is available for $11.50 ($4.99 for Kindle version) and can be ordered through the Amazon website:
https://www.amazon.com/PURSUIT-FREEDOM-Laxmi-Parasuram/dp/1482874911