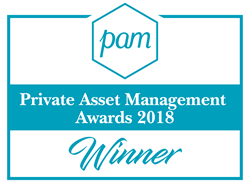 This honor affirms the hard work that we put into establishing ourselves as on the of the industry's premier advisory firms.
WESTPORT, Conn. (PRWEB) February 23, 2018
Coastal Bridge Advisors, an independent wealth management firm with approximately $2.5 billion in client assets, is proud to announce it has been named the winner of the 2018 "Best Private Wealth Manager Under $5B" by Private Asset Management Magazine (PAM). The PAM Awards recognize top investment professionals, wealth advisers, legal firms, consultants and other key service providers in the private asset management space across a number of award categories. This is the second time in as many years that Coastal Bridge Advisors has been recognized by PAM with this award.
"Every day our team is hard at work seeking to deliver value-added advice and superior service to our clients," said Jeff Fuhrman, President of Coastal Bridge Advisors. "While the strongest accolades come from the continued trust and confidence of our clients, we are honored to have earned this prestigious award. It is particularly gratifying to have been recognized for the second year in a row, affirming the continued dedication and contributions of the Coastal Bridge Advisors team."
In 2017, Coastal Bridge Advisors also won Best Private Wealth Manager Under $5B and in 2014 was the winner of the Best Multi Family Office Overall. The 2018 PAM Awards were presented at its annual awards dinner where Coastal Bridge Advisors was also named as a finalist in the Best Private Wealth Manager for Client Service Under $5B category.
PAM is a leading publication that reports on the wealth management and family office industry. Now in their eighth year, the PAM Awards are judged by an independent panel of industry experts, who evaluate a mixture of qualitative and quantitative performance indicators to select the winners. Judges are carefully selected for their wealth of experience and expertise, as well as their absence of conflicts of interest.
About the PAM Awards:
The 2018 and 2017 Award for the Best Private Wealth Manager Under $5B category were determined based on the following criteria:

Financial Progress (performance track-record over the course of the last twelve months);
Growth (client numbers, internal hires and geographic expansion);
Client Satisfaction (evidence of client satisfaction, including evidence of exceptional service and direct client statements); and
Product Innovation (details of new services and products launched over the prior year).
The 2014 Award for the Best Multi-Family Office Overall was determined based on the following criteria:
Commercial Success and Business Growth;
Positive Client Feedback via Submitted Testimonials;
Description of new product, its genesis and how it was created; and
Demonstration of Product Innovation.
PAM does not release statistics on the number of firms competing.
Please note that Coastal Bridge Advisors receipt of the award may not be representative of any one client's experience because the award reflects an average of all, or a sample of all, of the experiences of the firm's clients and that Coastal Bridge Advisors' receipt of the award is not indicative of the firm's future performance.
About Coastal Bridge Advisors:
Coastal Bridge Advisors is an independent Registered Investment Advisor offering a full range of wealth management and virtual family office services to discerning families across the country. From its offices in Westport, CT and Los Angeles, CA, Coastal Bridge provides its clients with sophisticated advice and highly personalized service. Through its collaborative approach, Coastal Bridge seeks to provide clarity and control for its clients, while developing and executing strategies which are designed to positively impact their financial well-being.
More information about the firm can be found at http://www.coastalbridgeadvisors.com.