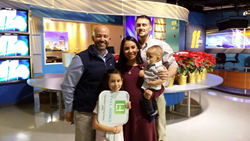 Level Homes is honored and proud to build a home for a deserving veteran and his family. We can think of nothing better to honor this vet than to build a quality home that his family can enjoy and thrive in a safe environment. — Level Homes President Ric Rojas
RALEIGH, N.C. (PRWEB) February 26, 2018
Level Homes is proud to be the 2018 builder of a home for a deserving veteran family as part of Operation Coming Home, a local non-profit organization that provides homes to disabled combat veterans. Level Homes will be building the 17th Hero Home in the Triangle.
"Level Homes is honored and proud to build a home for a deserving veteran and his family," says Level Homes President Ric Rojas. "We can think of nothing better to honor this vet than to build a quality home that his family can enjoy and thrive in a safe environment."
Operation Coming Home (OCH), which is celebrating its 10-year anniversary, was created when a group of local vets and members of the Home Builders Association of Raleigh-Wake County joined to assist severely wounded veterans. To learn more about Operation Coming Home, visit http://www.hbawake.com/about-operation-coming-home.html.
The new home will be built in 5401 North, a master-planned community in Raleigh, which has a strong focus on nature, sustainability and plenty of open space for residents to enjoy. Amenities include hiking and bike trails, a community farm, an elementary school, a middle school and a state-of-the-art planned community center and pool.
The home will go to Sgt. Anthony Von Canon and his family, who were surprised just days before Christmas 2017 with the news that they are the recipients of a new home, courtesy of Operation Coming Home.
Level Homes builds new homes and sustainable communities that reflect the way homeowners live today. With 28 employees in the Raleigh area, Level Homes was previously one of the 50 Fastest-Growing Private Employers in the Raleigh-Durham-Chapel Hill, North Carolina market by The Triangle Business Journal (ranking No. 2 on the list) and was Ranked No. 10 of Best Places to Work by the Triangle Business Journal and was recently named the fastest-growing firm on Builder Magazine's annual ranking of the Next 100 Builders in the United States.
Founded in 2000 in Baton Rouge, Level Homes builds new homes in five communities in the Triangle, North Carolina area, and has expanded to the Wilmington area along the North Carolina coast.
Visit https://www.levelhomeslifestyle.com/nc/ to learn more about Level Homes, its award-winning new homes and communities in North Carolina and the firm's unique approach to building "Life. Style. Home."