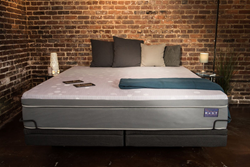 "The quality of a person's sleep can impact their health, energy levels, and disposition," explained Hammacher Schlemmer's General Manager Nick DiMarco. "We are consistently exploring new avenues and innovations to improve sleep quality."
NEW YORK (PRWEB) February 22, 2018
Continuing its 170-year history of offering the Best, the Only and the Unexpected, Hammacher Schlemmer introduces The Only Responsive Smart Bed, a bed that uses sleep technology to help alleviate back pain and other aches by monitoring your sleeping position and automatically responding with your desired amount of support.
Paired with an app available for smartphone or tablet, the unique bed monitors nearly 2,000 pressure points across the body and adjusts overnight to provide each sleeper's preferred level of firmness in five zones under the head, shoulders, lumbar, hips, and legs. Three operating modes lock in these settings in advance or continuously adjust depending on your position. All mechanical components are imperceptible beneath layers of dense memory foam, and the medical-grade, leak-resistant air chambers inflate and deflate quietly to not interrupt shuteye.
"The quality of a person's sleep can impact their health, energy levels, and disposition," explained Hammacher Schlemmer's General Manager Nick DiMarco. "We are consistently exploring new avenues and innovations to improve sleep quality."
The Only Responsive Smart Bed is available from Hammacher Schlemmer for $4,600 for King, $4,000 for Queen and $2,800 for Twin XL. For more information about The Only Responsive Smart Bed, please contact Trish Hammond at (847) 581-8987 or via e-mail at pr@hammacher.com.
About Hammacher Schlemmer
Hammacher Schlemmer is America's longest running catalog, offering the Best, the Only and the Unexpected since 1848. The company provides unique products that solve problems or represent the only one of their kind, and backs its products by a rather famous Lifetime Guarantee of Complete Satisfaction. Hammacher Schlemmer's innovative offerings are available through its catalog and online at http://www.hammacher.com
About ReST
ReST's mission is to perfect the sleep experience. ReST is the only company with an integrated solution that not only tracks sleep data but automatically responds to that data to help people sleep better.
Our main product is the ReST Bed™: the smartest smart bed. The ReST Bed™ incorporates our patented smart fabric, which senses changes in pressure and interacts with the mattress in order to automatically respond to the sleeper's comfort and support needs throughout the night. In addition, a ReST Bed™ provides useful information and data about consumers' sleep patterns. Above all, ReST Beds™ – like all of our products – help people sleep better so that they can live healthier and more productive lives. http://www.restperformance.com