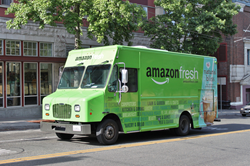 "..we will help bring its service to millions of new US customers"- Nick Holzherr
SEATTLE (PRWEB) February 27, 2018
Amazon US has partnered with Whisk.com, the world's leading AI food platform, to connect over 100 million monthly recipe views, from 20 recipe publishers, to an AmazonFresh cart.
Whisk.com uses advanced deep learning technology to match consumers' grocery shopping preferences with 500,000 recipes from leading publishers simplifying meal planning for millions of US homes
AmazonFresh will now have access to major US food brands like Pillsbury and McCormick as well as recipes from a network of the world's largest publishers, including BBC Good Food, All Recipes and Food Network, which will help accelerate its growth in a market set to be worth $100bn by 2022 (AC Neilsen/FMI)*
US partners already using Whisk include Walmart, Peapod and General Mills. The service will extend to AmazonFresh UK in March 2018.
Whisk's platform currently links publishers and retailers in the US, UK and Australia, demonstrating that partnerships between large businesses and smaller agile groups can help accelerate growth.
Whisk CEO, Nick Holzherr, said, "We've been impressed by Amazon's speed of innovation in the grocery sector...we will help bring its service to millions of new US customers much faster"

ABOUT WHISK:
Whisk's platform enables frictionless food experiences by connecting the world's recipes, products, and shopping choices using artificial intelligence and deep learning.
Whisk was founded in 2012 by Nick Holzherr and now partners with 8 major retailers & 20 recipe publishers worldwide.
Some examples of Whisk's work:
Whisk powers eCommerce integrations for leading publishers in 11 countries - a list of top publishers can be found here
Samsung's FamilyHub delivers personal recipe recommendations through a partnership with Whisk announced here.
FMCG brands have used Whisk to build smart recipe chatbots (Schwartz case study here) as well as food and wine pairing algorithms (Brancott case study here and AB Inbev's beer pairing case study here)
For more information visit: about.whisk.com
Press contacts:
nick@whisk.com
Tel:+44-7984041304
larisa@whisk.com
clive@lh-si.com