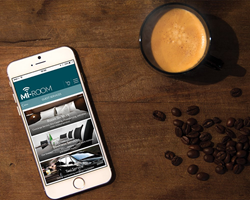 The British technology company will be implementing Mi-Room, a web-based mobile ordering and payment solution for the FORM Hotel's guest services
LONDON (PRWEB UK) 23 February 2018
The British technology company will be implementing Mi-Room, a web-based mobile ordering and payment solution for the FORM Hotel's guest services. The technology will allow guests within the hotel to order and pay for room service, experiences and amenities, via their own mobile device – without downloading an app.
FORM Hotel Dubai's facilities will include a lifestyle restaurant, a rooftop infinity pool, a rooftop gym, a design boutique, and a boardroom. The hotel is in direct proximity to Downtown Dubai, Dubai International Financial Centre, Dubai World Trade Centre, Dubai Design District, and Dubai International Airport, one of the world's busiest airports.
Tarek M. Daouk commented, "We announced our intention to bring a technology-driven design hotel concept to the UAE precisely one year ago. Today, we're delighted to be able to confirm that we will be delivering this landmark project to guests both on time and under budget. We believe Dubai's maturing hotel market is now prepared to welcome a creative hotel offering like ours, and that it is the ideal time to deliver FORM, a novel and design-focused boutique hotel aimed at forward-thinking travellers."
Graham Cornhill, Founder and Managing Director of wi-Q, said: "We are delighted to be working with Smartotels to deliver a fully-branded, web-based mobile ordering solution. Unlike mobile ordering apps that require downloading and storage space, wi-Q's web-based mobile ordering technology can be accessed by guests in seconds on any of their own internet-enabled devices."
Delivering unrivalled functionality, wi-Q Technologies' platform enables customer-centric features including choice of language, allergy and dietary requirements and multiple payment options as well as instant ROI to venues via upselling, loyalty and data-driven marketing tools.
Both wi-Q and Mi-Room are available on a low-cost SaaS model. For further details visit http://www.wi-q.com or http://www.mi-room.com.
wi-Q Technologies - Editor's Notes
A leading F&B Oracle Gold Partner, wi-Q Technologies is a revolutionary software company founded by a stakeholder group who recognised a gap in the market to help customers and guests with their purchases by placing ordering and payment capability in their hands. The resulting web-based software, wi-Q for F&B outlets and Mi-Room for hotel guest services, is live in a variety of hospitality venues around the world.
With wi-Q or Mi-Room, the venue's mobile ordering menu can be accessed in seconds by customers or guests using their own internet-enabled devices (including phones, tablets and laptops) via 3/4G connection or Wi-Fi without having to download an app. The user can select from the easy to update menu, place their order, make further purchases (think dessert or second cup of coffee), request a bill or pay for their order, exactly when they want to – all in a language of their choice.
For more information visit: http://www.wi-q.com or http://www.mi-room.com