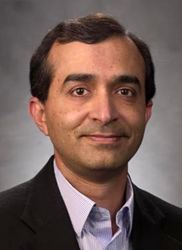 NEW YORK (PRWEB) February 26, 2018
Pro Mujer, a leading women's development organization in Latin America, today announced the appointment of Mohit (Moe) Nagpal as chief operating officer. Nagpal brings to Pro Mujer more than 27 years of experience in business operations, strategic planning, technology deployment and business development across industries that include healthcare, banking, education and technology.
Nagpal has extensive experience implementing and deploying large-scale strategic programs, overseeing international teams through the fulfilment of complex plans, including change management across functions and geographies. At Pro Mujer, Moe will be involved with all aspects of running, improving and expanding the enterprise, including strategic planning and special programs. Reporting to him will be the Human Resources, Information Technology and Marketing and Communications Teams.
Pro Mujer President & CEO Maria Cavalcanti comments, "I have full confidence in Moe's ability to lead us towards sustainable, strategic growth. Moe, who brings an impressive proven record growing businesses, will be a key leader driving the implementation of our organization's strategic plan, focusing on improving efficiency, better utilizing technology and data, and designing innovative and technology-enabled program solutions in financial inclusion, health, entrepreneurship and digital literacy."
Prior to joining Pro Mujer, Nagpal served as vice-president of business operations at Hewlett-Packard, where he played a key role in the merger of CSC and the Enterprise Services business of Hewlett Packard Enterprise. Afterwards, he served as executive director for client, account and business operations of DXC Technology, leading business operations, strategic planning and transformation. "I am really excited about working for a Social Enterprise with a mission to break the cycle of poverty and provide healthcare as well as digital education opportunities to those that most need it. I am looking forward to working with the teams and the Board, to take the services to the next level of excellence and grow the impact on the communities."
Nagpal will report to Cavalcanti and serve as a member of Pro Mujer's Executive Team.
About Pro Mujer
Founded in 1990, Pro Mujer is a mission-driven social enterprise whose mandate is to become a large-scale, sustainable platform that delivers relevant and transformative resources and tools to women in Latin America throughout their life cycle. Pro Mujer serves roughly 300,000 clients and patients, and operates across five countries in Latin America, including Argentina, Bolivia, Nicaragua, Mexico and Peru. Pro Mujer offers financial, health and educational services and is expanding its offerings to include digital literacy, gender-based violence prevention, family planning, job creation and entrepreneurial services. (http://www.promujer.org)