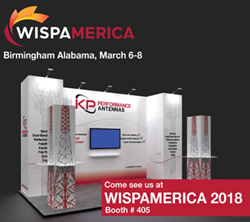 "WISPAmerica is the perfect venue and gathering place for our company to display and promote new technologies, products and services widely used throughout the WISP industry," said Shaun Gameroz, Senior Marketing & Brand Manager for KP Performance Antennas
EDMONTON, ALBERTA, CA (PRWEB) February 27, 2018
KP Performance Antennas, a manufacturer of wireless internet service provider (WISP) antennas and accessories, announced today that it will be exhibiting at the 2018 WISPAmerica conference in Birmingham, Alabama, March 6th through March 8th.
Each year, WISPA, an industry advocacy organization, hosts two exhibitions and trade shows to promote the development, advancement and unification of the wireless internet service provider industry. This year, WISPAmerica will be held in Birmingham, which acts as a centralized location for many WISPs in the southern part of the country. As a member of WISPA and an annual participant in these industry shows, KP Performance Antennas is a well-respected manufacturer of antenna products used by hundreds of well-known customers throughout the USA and Canada.
At this year's show, longtime customers and potential clients visiting the show will be able to learn more about and see firsthand the many products and solutions offered by KP Performance, such as various sector antenna designs, reflector dishes, feed horns, Omnis and other items on display.
"WISPAmerica is the perfect venue and gathering place for our company to display and promote new technologies, products and services widely used throughout the WISP industry," said Shaun Gameroz, Senior Marketing & Brand Manager for KP Performance Antennas. "For the past 7 years attending, we've looked forward to this show to learn about new industry trends and developments while also being face-to-face with many of our customers."
KP Performance Antennas will be exhibiting at WISPAmerica 2018 and can be found at Booth #405 on the exhibition floor. For more information about KP Performance Antennas, visit the company's website at https://www.kpperformance.com.
For more information about this release, please contact:
Peter McNeil
KP Performance Antennas
17792 Fitch
Irvine, CA
978-682-6936 x1174
###
About KP Performance Antennas:
With decades of in-the-field expertise as former WISP operators and Ph.D. antenna engineers, KP Performance Antennas helps wireless internet service providers maximize ROI with products engineered to exceed industry expectations by delivering superior throughput, greater service coverage, dependable performance and reduced maintenance costs, while also providing responsive service, expert technical support and same-day shipping. KP Performance Antennas is an Infinite Electronics company.