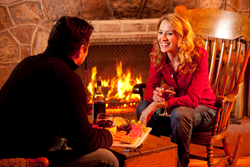 DOOR COUNTY, Wis. (PRWEB) February 28, 2018
Whether nestling by a fire or enjoying an afternoon hiking Door County is the spot. As we wait for the start of spring March allows us to squeeze in our favorite winter activities one last time.
March Events
Enjoy beautiful works of art at The Clearing Folk School's winter exhibit in Ellison Bay, Friday and Saturday, March 3 & 4.
Sip wine and taste local cheese at Door County's Wine and Cheese Gala in Jacksonport, Friday, March 9 at 6 PM.
Catch the luck of the Irish at the St. Patrick's Day parade in downtown Sturgeon Bay, Saturday, March 17 at 11 AM.
Plan a romantic getaway this winter with Door County's Nature of Romance lodging packages. From now until March 25, 2018 guests can enjoy dozens of special romantic packages offering luxurious accommodations, scrumptious food, fun-filled activities, a $25 Door County gift certificate and more!
Did you know?
Fincantieri Bay Shipbuilding in Sturgeon Bay is the largest shipyard on the Great Lakes. Watch the 1,000-foot ships depart the shipyard in late March or early April for the 2018 shipping season. Updates can be found on the Door County Maritime Museum Facebook page.
On-Going Winter Activities

Photography- Rejoice at picturesque ice shoves found in areas across the peninsula.
Miller Art Museum-Check out the new "Peninsula Printmakers" exhibit.
The Ridges Sanctuary- Enjoy an afternoon snowshoeing or hiking.
Live Music-Listen to talented artists throughout the peninsula each weekend.
Peninsula State Park-Visit the nature center and feed the chickadees.
Renard's and Door Artisan Cheese- Sample award winning cheese from Master Cheesemakers.
Can't Miss Arts & Culture Event
March 10, 2018. Prepare to be amazed as nationally touring illusionist, Justin Flom takes the stage at Southern Door Community Auditorium.
Stay Connected at DoorCounty.com
Door County is a bucolic peninsula that juts out into Lake Michigan in Wisconsin's northeast corner. Named one of the Top 10 Vacation Destinations in North America by Money magazine, Door County features 300 miles of shoreline, 11 lighthouses, 5 state parks and 19 county parks. It is known for its natural beauty, artistic offerings and year-round outdoor recreation opportunities.