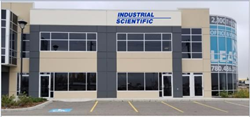 PITTSBURGH (PRWEB) February 26, 2018
Industrial Scientific, the global leader in gas detection, is pleased to announce that its Service Center in Canada has moved to a new location in Sherwood Park, Alberta. The move was motivated by the need for a larger space to support the rapid growth of instrument rental and iNet® Gas Detection as a Service in the Canadian market. The new office, one block from the previous location, offers 9,050 square feet of expanded inventory space for a growing team of employees covering rental, repair, sales, and training. Operations at the new building began on February 12, 2018. The physical address is as follows:
Unit #170 167 Provincial Avenue
Sherwood Park AB T8H 0M3
Canada
To contact the new office, call 1-780-467-2423.
About Industrial Scientific Corporation
As the global leader in gas detection, Industrial Scientific provides gas detection products and services that keep workers safe in hazardous environments. The company's 700 employees in 21 countries are committed to preserving human life and have dedicated their careers to eliminating death on the job by the year 2050. Established in 1985 and headquartered in Pittsburgh, Pennsylvania, Industrial Scientific has operations based in Arras, France and Shanghai, China, and provides technical services to customers from local service centers around the world. Industrial Scientific is the parent company to Predictive Solutions Corporation (http://www.predictivesolutions.com). For more information, visit http://www.indsci.com.