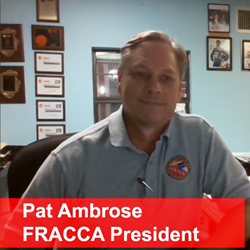 The MUST ATTEND Florida HVAC Conference of the Year. – Pat Ambrose, FRACCA President
ORLANDO, Fla. (PRWEB) March 01, 2018
FRACCA 2018, is the largest HVAC industry show in Florida with support from the major industry leaders and knowledgeable speakers from across the state.
Obviously, HVAC contractors will be able to receive CE credits, but beyond that, these speakers will be sharing the most important information to date in running a successful HVAC contractor business in Florida.
The information presented can help HVAC contractors in Florida grow their business, capitalize on trends in the industry, and avoid huge risks and challenges that are sure to trip up many in the industry.
Here is a short list of Florida HVAC CE and Business Related topics being explored at this year's conference:

How technology is impacting your business growth strategy.
Manufacturers are marketing directly to end users.
Labor Only Installers in E-commerce marketplace.
Legislative and Code Issues. Dec 31, 2017 New Code Cycle
Workers Comp & Licensing Issues
Online Sales & unlicensed contractors
Educate consumers. Total install. Buying expertise
The three-day conference is open to all HVAC contractors in the State of Florida.
Although membership in FRACCA is not required to attend, HVAC contractors must register to attend the conference.
For more information or to find the link to register please visit http://brandmanagementlabs.com/fracca-florida-refrigeration-air-conditioning-contractors-association-pushing-envelope-2018-educational-conference-held-march-13th-14th-15th-orlando/?utm_source=bmlabsprweb20180228