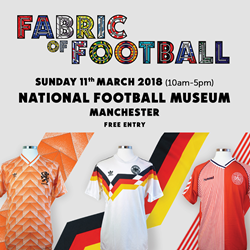 Classic Football Shirts director Doug Bierton said: "We've been building our own private collection for the last few years and have had a great deal of enjoyment in putting these amazing shirts together. Now I feel it's time to share them with the rest of the Football community and beyond."
Manchester (PRWEB UK) 28 February 2018
- Museum and global leaders of vintage shirts are collaborating to display 500 + designs, including collections from iconic World Cup Finals, Champions League and the FA Cup matches

FREE Exhibition, open to the public - Sunday 11th March 10.00am – 5.00pm
To celebrate the arrival of the permanent Fabric of Football exhibition space in the National Football Museum, Classic Football shirts is exhibiting 500 of its greatest and most iconic jerseys. The display aims to capture memorable moments in the history of the game and document the evolution of football shirt design. It will also focus on the use of classic designs in the latest Nike and Adidas releases ahead of the 2018 World Cup which are due to go on public sale in mid March.
The exhibition will include sections dedicated to the World Cup, European Championship, Champions League, Cup Finals, and more. Each will include shirts never displayed before and of extreme rarity. As the season approaches its climax and the buzz around the World Cup Finals kicks into full swing, there will be both a topical editorial angle to the event.
The National Football museum holds an esteemed reputation on both a national and international scale and provides an ideal venue for football fans of all eras to enjoy the exhibition, which is expected to draw 5,000 people to its free public event on Sunday 11th March.
Exhibition Address:
National Football Museum
Urbis Building
Cathedral Gardens
Todd St
Manchester
M4 3BG
For further information, please contact cfs(at)classicfootballshirts(dot)co.uk, or alternatively call 0161 276 0828