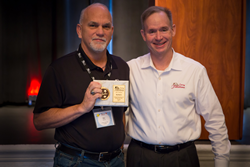 Having a great team is key to the success of any business, but especially a business like ours. You can't do it without the right people. I trust my team and this award is truly a recognition of their good work. - Rex Norris
CARROLLTON, Texas (PRWEB) February 28, 2018
Caring Transitions, America's largest resource for managing senior relocations as well as downsizing and estate liquidations, is pleased to announce that Caring Transitions of Denton and Collins Counties has been awarded one of the company's national Top 10 Awards. The franchise is locally owned and operated by Rex and Nancy Norris and the award was presented at the company's national conference on February 9, 2018.
Caring Transitions Chief Operating Officer Al Scobell said the Caring Transitions family is impressed not only the Norris' financial successes, but also their ongoing commitment to the Caring Transitions franchise system.
"Their drive to grow their business in the Dallas market, as well as the Caring Transitions system nationwide, is what has driven Caring Transitions of Denton and Collin Counties to be a top producer with Caring Transitions Franchise. Rex and Nancy are truly dedicated to giving back to entire system and we appreciate their efforts not only to develop his own business, but to develop Caring Transitions as a whole across the nation," Scobell said.
Caring Transitions is a national franchise in more than 200 markets. Caring Transitions of Denton and Collins Counties' specially-trained team can handle organizing, packing, de-cluttering, moving, resettling, in-person and online estate sales, liquidations and preparing homes for market. Caring Transitions specializes in managing senior relocations, but the services are also perfect for busy families and individuals in need of assistance.
Caring Transitions of Denton and Collin Counties serves West Plano, Carrollton, Lewisville, Flower Mound, Frisco, Little Elm, The Colony, Denton, Aubrey, Pilot Point, Gunter, Celina, Prosper, Highland Village, Copper Canyon, Gainesville and the surrounding areas.
Rex said the biggest changes last year were to expand the staff and getting himself into a position where he can work on the business instead of in the business. In 2017, they added a brand development specialist, a general manager and five other new employees. Rex also became a half owner in the Dallas market in 2017, so that meant expanding his team further south.
"My goal isn't usually focused on a financial number – it's more about a percentage growth. In 2017, we grew our client base by 22 percent and I'm happy with that. I don't want to grow too fast because I never want to lose our focus on customer service and customized solutions. Growing responsibly has meant that we can make sure we have the right team and the right resources to meet the needs of our clients and exceed their expectations," Rex said.
Caring Transitions' services are perfect for seniors moving in with family or into a safer living situation as well as busy families and people clearing out the home of a loved one who has passed. All of Caring Transitions' services are customizable, so clients only pay for the services they need – whether that means managing the entire move and estate-clearing or just getting someone resettled into their new place.
In 2018, Rex said he and his team are looking to growing by another 22 to 30 percent and expanding the team again.
"Having a great team is key to the success of any business, but especially a business like ours. You can't do it without the right people. I trust my team and this award is truly a recognition of their good work," he said.
Caring Transitions of Denton and Collins Counties is bonded and insured and all W2 employees have been background-checked. For additional information about Caring Transitions of Denton and Collins Counties, call (469)275-4875, email RNorris(at)CaringTransitions(dot)net or visit http://www.CaringTransitionsDCC.com.