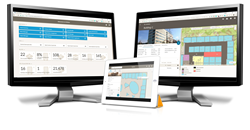 The goal is always to help users maximize their return on investment from InVision - and also from their facility portfolios overall.
Topsham, ME (PRWEB) March 07, 2018
Facilities are mission-critical to any organization, and the InVision software suite cohesively addresses a full range of facility management needs, from strategic portfolio planning and management, to day-to-day facility management, operations, maintenance, and safety and security.
InVision 2018 is a complete overhaul of the popular software suite, with a focus on usability, performance, and plenty of new features. For InVision 2018, PenBay has incorporated feedback from existing users to provide them with the most powerful, intuitive, and fastest version of InVision yet. InVision 2018's new user experience provides users with the critical facility information tools that help them do their jobs faster, better, and smarter than ever before.
InVision 2018 is packed with many new features including:

New Explorer highly configurable app template - The new Explorer app template is designed to be adapted to a wide range of uses for search, visualization, information linking, and field data collection - both indoors and outdoors.
New Space Manager and Space Planner Applications - The new Space Manager and Space Planner applications are designed to quickly search, filter, and sort data and answer complex questions about space and occupancy. New features include proportional space allocation, support for space standards, enhanced editing for bulk space edits, and more.
New Saved Filters and KPI Cards - save filters and create KPI cards on InVision Home screens for continuous focus on the performance metrics that are most important to each user.
New System Integrations Capabilities - new support for parameterized links, advanced key mapping, and connectors for other enterprise systems enhance InVision's capabilities as a systems integration platform.
New Data Quality Analytics - any information system is only as good as its underlying data. InVision 2018 ships with a series of new data quality reports and a data quality playbook to help identify and address data quality issues in underlying data.
"InVision 2018 is, by far, our most significant release as a company. The improved user experience, reporting and flexible applications reflect valuable client feedback with the goal of delivering intuitive and user-friendly solutions to common business challenges," said Stu Rich, CTO, PenBay Solutions. "The InVision 2018 release also establishes an important strategic framework that is allowing us to address additional business challenges in future releases. The goal is always to help users maximize their return on investment from InVision - and also from their facility portfolios overall."
For more information about the exciting new capabilities of InVision 2018, please check out the video on PenBay's web site and contact them for a demonstration.