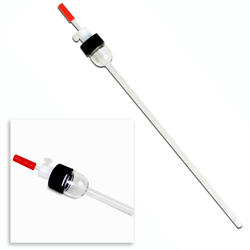 This product is incredibly valuable to users that want a simple solution for acquiring NMR reaction and kinetics data.
VINELAND, N.J. (PRWEB) March 12, 2018
With the benefit of in-tube mixing, the all-new Reaction Monitoring System NMR Tube from Wilmad-LabGlass permits researchers to run reaction experiments without the need for costly instruments or equipment. This two-chamber borosilicate glass tube is a valuable tool for aiding in kinetic studies and reaction endpoint determinations.
"NMR reaction monitoring has become increasingly important in recent years due to green chemistry initiatives, process chemistry advances, and breakthroughs in enzymology," explains Susan Butch, Product Manager for Wilmad-LabGlass – SP Scienceware.
The system features an inner chamber with a Teflon® tip that when secured in the outer chamber creates a positive seal separating solutions until the user is ready to mix. The in situ mixing of solutions allows for clear before and after reaction spectra. With the use of a benchtop NMR Spectrometer where the upper portion of the sample tube is accessible researchers may also be able to capture initial kinetic data points.
"This product is incredibly valuable to users that want a simple solution for acquiring NMR reaction and kinetics data. It permits them to run reaction experiments with almost any style NMR Spectrometer," said Butch.
Available in 7-inch and 8-inch tube lengths, the Reaction Monitoring System comes with an extra black phenolic cap for storage of solutions post-mix. List price for the 7 and 8-inch models are $258.00 and $278.64 respectively.
A video explaining how the Reaction Monitoring System allows for in-tube mixing can be viewed on the Wilmad-LabGlass YouTube Channel.
For more information on the Wilmad-LabGlass Reaction Monitoring System NMR Tubes or the complete line of NMR, EPR, custom, and laboratory glassware offerings from Wilmad-LabGlass – SP Scienceware, call 1-800-220-5171, email cs(at)wilmad-labglass(dot)com or visit http://www.wilmad-labglass.com.
Research, industrial and healthcare professionals around the world rely on SP Scienceware for their sample handling needs. Wilmad-LabGlass brand laboratory glassware offers over 7,000 items including NMR and EPR consumables and specialty glassware, as well as custom fabrication for individual glassware, glass repair services and OEM glass parts. Bel-Art and H-B Instrument brand laboratory supplies include over 3,500 items from safety wash bottles to fume hoods, thermometers, racks, desiccators, hydrometers, ice buckets, magnetic stirring bars, scoops and spoons. Calibration services and OEM plastic and wire manufacturing are also available. Whether you need tried and true or an innovative product solution, Prepare to Discover with SP Scienceware.
SP Scienceware is a division of Warminster, PA based SP Industries which also include SP Scientific laboratory, thermal management, and pharmaceutical production equipment and SP Ableware aids for daily living.