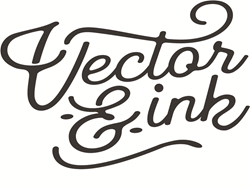 It's the growth we're seeing in our digital offering that prompted the name change
WISCONSIN DELLS, Wis. (PRWEB) March 13, 2018
Dan Marsich, Ad-Lit's CEO announced this week at the Wisconsin Governor's Conference on Tourism that the company will officially be changing its name to Vector & Ink effective immediately.
Mr. Marsich explained that the new name reflects the transformation the company has undergone in recent years from its humble beginnings distributing promotional brochures locally to the omni-channel tourism marketing services agency it is today, adding, "Our business has changed dramatically as consumer demand and technology have changed how, when, and where we get our information."
"Though traditional marketing, including brochure distribution and travel guide publication, remains as our core business, it's the growth we're seeing in our digital offering that prompted the name change."
What's in a name?
"The word vector means a digital graphic that can be scaled infinitely without any loss of quality and is used to represent our digital work, and ink is a nod to our legacy print business," Mr. Marsich explained. "So, put them together, you get Vector & Ink, a premier tourism marketing agency with deep expertise in digital and traditional print media."
Dan Marsich can be reached directly at dan(at)vectorandink(dot)com or 608-254-8770.
https://www.vectorandink.com
Vector & Ink is a premier tourism marketing and advertising agency. Established in 1966 by Tom Gussel, as Ad-Lit Inc., we've promoted the tourism trade for virtually every business in Wisconsin Dells, WI and leveraged that expertise to grow nationally. With offices in Wisconsin and Florida, Vector & Ink specializes in digital campaigns including websites, social media, and email marketing. We are also the most recognized company in the mid-west and Southwest Florida for travel and hospitality brochure distribution and print media. Contact us at https://www.vectorandink.com