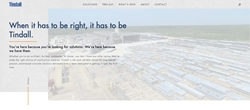 "We are committed to delivering the most innovative products and solutions to our customers," said Greg Force, President and CEO of Tindall. "This led us to develop a new website that is designed to clearly reflect that mindset, as well as the advantages of a partnership with Tindall."
SPARTANBURG, S.C. (PRWEB) March 13, 2018
The new website serves as a thought starter for those interested in learning more about Tindall's expertise and capabilities. The site celebrates the diverse applications of precast, showcasing the company's best work in such markets as industrial, mixed use, education, parking, and utility products. Visitors can also access the latest news, customer testimonials, team information and career opportunities.
"We are committed to delivering the most innovative products and solutions to our customers," said Greg Force, President and CEO of Tindall. "This led us to develop a new website that is designed to clearly reflect that mindset, as well as the advantages of a partnership with Tindall."
The website's clean and uncluttered design emphasizes improved mobile functionality, while enhancing the capability to stay up-to-date on the latest products and precast innovations through refreshed content. New functionality allows visitors to connect directly with the most relevant Tindall team member for their project.
The website goes live today. Explore Tindall's new website by visiting http://www.tindallcorp.com.
Tindall Corporation
Headquartered in Spartanburg, SC, Tindall Corporation is one of the largest precast concrete manufacturers in North America. With five production facilities located throughout the Mid-Atlantic to the South Central United States, Tindall provides engineering, manufacturing, shipping and installation solutions for precast, prestressed concrete systems and underground utility structures.