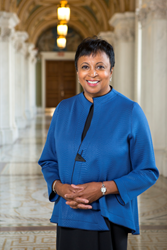 "Both personally and professionally, Dr. Hayden truly embodies the core values of our community by valuing the library's role as a place for learning and opportunity and a cornerstone of democracy." Debbie Ricker, Ph.D., Provost, Hood College
FREDERICK, Md. (PRWEB) March 14, 2018
The first woman and first African American to be Librarian of Congress will be the speaker for Hood College's combined undergraduate and graduate Commencement ceremony on May 19.
Carla Hayden, Ph.D., is the 14th Librarian of Congress, and she is the first professional librarian appointed to the post in more than 60 years.
"We are delighted to welcome Dr. Hayden to Hood College as our May Commencement speaker," said Debbie Ricker, Ph.D., Hood's provost and vice president for academic affairs. "Both personally and professionally, Dr. Hayden truly embodies the core values of our community by valuing the library's role as a place for learning and opportunity and a cornerstone of democracy."
Hayden's three decades of library experience have included positions with the Chicago Public Library, Chicago's Museum of Science and Industry, the Enoch Pratt Library in Baltimore and the Library of Congress. She was confirmed to be Librarian of Congress by the U.S. Senate in July 2016 and sworn in on Sept. 14, 2016.
In 1995, while working for the Enoch Pratt Library, Hayden was awarded the Library Journal's Librarian of the Year Award for developing an after-school center for teens, which offered homework assistance and college and career counseling.
"As a leader, scholar and educator, she is a role model for our students," said Ricker. "I know she will inspire our graduates to continue using their hearts, minds and hands as they follow their passion and fearlessly embrace every opportunity for which Hood College has prepared them."
Hood College will also award Hayden with an honorary Doctorate of Humane Letters.
Hayden earned her doctoral and master's degrees in library science from the University of Chicago Graduate Library School. Her passion for reading was inspired by Marguerite de Angel's "Bright April," a 1946 book about an African-American girl in the Brownies.
About Hood College:
Hood College is an independent, liberal arts college, offering 32 undergraduate majors, four pre-professional programs, 19 graduate programs, two doctorates and 10 post-baccalaureate certificates. Located in historic Frederick, near Washington, D.C., Baltimore and the I-270 technology corridor, Hood gives students access to countless internships and research opportunities.