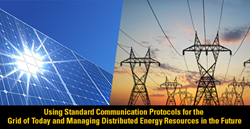 RALEIGH, NC (PRWEB) March 14, 2018
The fast growth of Distributed Energy Resources (DER) is leading to new challenges in managing traditional transmission and distribution in tandem with DER generation, electric vehicles, and demand response. Communication technology is evolving to meet new requirements for adding DER in a highly scalable and reliable way. Triangle MicroWorks Inc. will be one of the speakers at IEEE PES T&D Conference covering the latest trends in integrating DER into the grid.
In this tutorial, a broad overview of several communication protocols will be discussed. You will gain perspective on common use cases for traditional SCADA protocols and emerging DER related protocols. Also, the course will highlight how requirements for DER are unique compared to traditional SCADA. The objectives are to cover the basics of how each of the protocols function along with explaining why each protocol is suited for different purposes. Attendees will learn data transfer mechanisms, messages and commands, supported data types, protocol layers and security features.
Course Topics

SCADA and DER communications requirements and use cases.
Overview of SCADA protocols (DNP3 and IEC 61850).
Overview of DER protocols (IEEE 2030.5 and OpenADR).
DER landscape including IEEE 1547 and CA Rule 21.
Who Should attend this course?

Engineers, IT personnel and managers responsible for SCADA or DER integration projects.
System integrators involved in SCADA or DER integration.
Product managers for smart grid, SCADA or DER products and services.
Software developers implementing communications for SCADA or DER integration.
TMW Protocol Training Videos
Learn more about communication protocols with our free training videos:
DNP3 Protocol Training
DNP3 Secure Authentication
IEC 61850 Overview
IEC 61850 Modeling
Tutorials at IEEE PES T&D Conference & Exposition
Using Standard Communication Protocols for the Grid of Today and Managing DER in the Future
Room: 203, Session Number: TUT-06
Monday, April 16, 2018: 8:00 AM - 5:00 PM
[Reserve your spot by adding this course to your IEEE PES T&D registration.
2018 IEEE PES T&D Conference and Exposition
April 16-19 2018
Colorado Convention Center
Denver, Colorado
About Triangle MicroWorks, Inc.:
For over two decades, Triangle MicroWorks has been one of the world's leading providers of software solutions for standards-based communication protocols. Now serving hundreds of clients around the world, Triangle MicroWorks focuses on understanding the needs of each while building strong, lasting relationships. To learn more about all their capabilities visit their website, and connect with them on Facebook, Twitter, and Linkedin where they share valuable content. There is an active conversation and information stream at #TriangleMicroWorks as well.