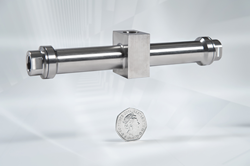 Membrane emulsification has been around for a number of years at a laboratory scale, but with the CXF-1 we have at last managed to scale this process up to be usable for mass production. It really will be a manufacturing game-changer
(PRWEB UK) 16 March 2018
Capable of processing up to 1,400 tonnes of product a year, the new device is more than capable of achieving the volumes required for mass production, but where it really comes into its own is in its reduced energy consumption and capability of revolutionising mixing efficiency.
The effective creation of emulsions, where one substance is combined with another into a creamlike combination, is all about achieving product consistency and minimising bad batches. High quality emulsions require an even distribution of uniform-sized particles in the mixture to create a stable product, ideally with the use of no, or minimal, stabilising additives.
The Micropore CXF-1 device achieves this by using a process called membrane emulsification where one substance is passed continuously through a tube laser-drilled with microscopic holes whilst a second substance passes around the tube shearing off droplets as they form through the tiny pores.
It is the precise size and distribution of the pores in the Micropore CXF-1 tube that enables the production of evenly sized and evenly distributed particles and near-perfect emulsions even at high flow rates. With no moving parts the mixing process is also inherently gentler than using a mechanical mixer, allowing more sensitive materials to be combined with much less in wastage.
By simply adjusting the flow rates of each substance the Micropore device can be 'tuned' to produce sizes to precisely the size required from 15 microns up to 1 mm. Because the emulsions produced can then also be post-processed with the suspended particles being coated to form microcapsules, it can also be used to create active delivery system products (such as deodorants that are activated by friction or heat, or delayed action pharmaceuticals), where the highly uniform capsule sizes achievable through the Micropore device are again highly desirable for product manufacturers who strive for products that behave as predictably as possible.
"Membrane emulsification has been around for a number of years at a laboratory scale," says Dai Hayward, CEO of Micropore Technologies, "but with the CXF-1 we have at last managed to scale this process up to be usable for mass production. It really will be a manufacturing game-changer."
Note to editors:
Micropore's patented encapsulation technology originated in the department of chemical engineering at Loughborough University. The principal inventor, Richard Holdich, is the Professor of Chemical Engineering and Head of Department. Professor Holdich has published many papers in the field, and is author of a book on Particle Technology. Micropore Technologies Limited was established over ten years ago as a high-technology spin-out of Loughborough University and is a solutions provider commercialising products and technology based on its patented encapsulation and emulsification processes.