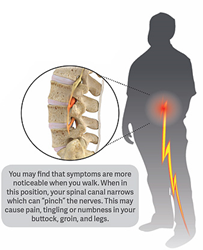 The Superion® device is a tiny titanium implant that is delivered through a tube the size of a dime. There is no removal of bone or tissue, and bleeding is minimal.
(PRWEB) March 15, 2018
On March 19, 2018 at 5:30pm EDT, a Vertiflex® representative and Tampa Pain Relief Centers guest physician will host an event to discuss Superion® as an alternative treatment option for Lumbar Spinal Stenosis.
This may be the solution for those who:

Suffer from pain when walking or standing
Find relief when leaning over or sitting down
Have tried six months of conservative care treatment without finding relief from pain
Want to avoid undergoing major surgery
Superion® was developed for patients with spinal stenosis who have tried six months of consecutive care treatment without finding relief from their pain. It is also for patients whose medical history shows that Superion® may be their best treatment option because traditional spinal surgery could be too demanding.
Please attend the seminar for more information.
EVENT DETAILS:
DATE: Monday, March 19, 2018
TIME: 5:30pm EDT
LOCATION: Hyatt Place Tampa - 11408 N 30th St, Tampa, FL 33612
RSVP: patientseminars(at)vertiflexspine(dot)com or 442.325.5955
Light food & refreshments will be provided.
-----------------------------------
About Pain Relief Centers:
With more than 40 convenient pain management clinic locations and counting, Pain Relief Centers serve hundreds of patients daily while maintaining a focus on providing comprehensive, personalized care for each patient. The highly-skilled physicians at PRC take a multidisciplinary approach to advanced pain management, assessing your individual needs to more effectively relieve your chronic pain and restore your quality of life.
PRC's board-certified, fellowship-trained physicians are equipped with state-of-the-art technology and a comprehensive, multimodal approach to treating your chronic pain. Relieving your pain and ensuring your comfort are top priorities at Pain Relief Centers.
If you are tired of living with chronic pain and want more information on options for minimizing or eliminating your suffering, contact Pain Relief Centers today at (800) 215-0029 or visit YourPainReliefCenters.com to set up a consultation at one of our clinics.