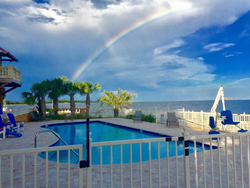 "When someone can cultivate a deeper understanding concerning their true nature as opposed to their façade, this sets the stage for self-forgiveness and real sustainable change." Barnett Gilmer CEO
GULF BREEZE, Fla. (PRWEB) March 20, 2018
Art Therapy: An Important Part of Substance Abuse Recovery
Art therapy can be an important part of an effective substance abuse recovery program. People often have questions about art therapy as they have not heard of this important tool. There are a number of advantages and positive effects that stem from participating in art therapy. In this piece we will answer some of the questions about art therapy and discuss a number of advantages that come from them while also exploring some of the most common forms of art therapy.
What is Art Therapy?
Art therapy, according to the American Art Therapy Association, is the 'use of art media, the creative process, and the resulting artwork to explore feelings, reconcile emotional conflicts, foster self-awareness, manage behavior and addictions, develop social skills, improve reality orientation, reduce anxiety, and increase self-esteem.'
What are the Benefits of Art Therapy?
Number One: Improved Communication
One of the most powerful benefits to emerge from effective art therapy is that of improved capacity for communication. Creating art can foster new forms of communication and strengthen existing forms. By exploring these forms of communication, individuals can develop new way of working through difficult and conflicting emotions and ideas.
Number Two: Self-Reflection
As almost an extension of the improved ability to communicate is the improved ability to communicate with oneself, known as self-reflection. Strengthening this ability is especially useful for an individual suffering from addiction as addiction can have an effect of distorting a person's sense of reality and awareness of their situation. In turn, this can help individuals rehabilitate their sense of self and rediscover who they really are.
Number Three: Self Discovery and Healing
The improved communication and self-reflection developed through art therapy tend to lead to important self-discoveries. In a constructive environment, such as a holistic rehabilitation program, these insights and discoveries can be vital steps on a pathway to recovery.
How is Art Therapy Practiced?
Forms of art therapy can be as varied as there are forms of art, but some of the common forms of expression that are practiced in art therapy include:
● Poetry,
● Painting,
● Sculpting,
● Acting,
● Music,
● Drawing,
● And dancing.
At the center of the practice is the creation and expression of ideas or thoughts through a creative medium in a way that is meant to communicate to oneself or another. Whether that medium is dance or sculpture, the goal is to communicate.
Taking it to the Next Level
Gulf Breeze Recovery uses art therapy to not only help their guests quieten the mind through creative efforts, but also using projects such as "the masks we wear" to help them see and understand, on a deeper insightful level, the façades they were using to hide behind. Barnett Gilmer, the CEO of Gulf Breeze Recovery states, "When we can help provide the occasion, such as art therapy, as an opportunity to quieten a busy mind, then we create a possibility for our guests to develop an insight concerning their addiction and the person they may have been pretending to be versus who they really are." Gilmer continues, "When someone can cultivate a deeper understanding concerning their true nature as opposed to their façade, this sets the stage for self-forgiveness and real sustainable change."
Considering Rehabilitation?
If you or a loved one are considering rehabilitation or suffering from substance abuse, please contact (855-973-3551) our facility to talk with our highly skilled and trained recovery professionals.
About Gulf Breeze Recovery: Gulf Breeze Recovery is changing the future of addiction treatment with the THRIVE® program focused on overcoming chronic relapse. Gulf Breeze Recovery's THRIVE® program is designed for those who are looking for a drug and alcohol treatment program to produce a different and positive result. This non-12 step program allows you to drive beyond your addictions and promotes a new outlook on life. For more information about our program or to speak with an Addiction's expert, please call 855-973-3551 or contact us.