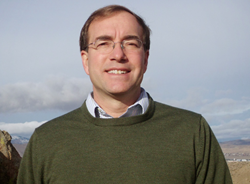 I want people to know that, at Caring Transitions of Reno/Sparks, we can be a resource for a variety of services during this time of transition. We are a one-stop shop for your transition needs ... . We are here to serve and make your life easier. - Brad Kaune
Reno, NV (PRWEB) March 19, 2018
Brad Kaune has always had a passion for working with seniors. Now he's excited to announce the launch of his company, which was specifically designed to help seniors and families through challenging transitions – Caring Transitions of Reno/Sparks.
Caring Transitions of Reno/Sparks is a local company, but it's also part of the national Caring Transitions franchise, which has industry-leading resources as well as a top-notch reputation for integrity and quality. Caring Transitions' specially-trained team can handle organizing, packing, de-cluttering, moving, resettling, in-person and online estate sales, liquidations, and preparing homes for market. Caring Transitions specializes in managing senior relocations, but the services are also perfect for busy families and individuals in need of assistance. Caring Transitions of Reno/Sparks serves the entire Reno and Sparks region.
Kaune has been working with older adults for the last 30 years, both in his career and through his volunteer work. He recently owned Eldercare-Connections, a well-known, in-home care company, and has been an SRES certified real estate broker in Nevada for more than 20 years. Kaune also has a Master's degree in Project Management and a bachelor's degree in both engineering and business/finance. He has been a Commercial Project Manager for more than 35 years. When he's not working, you can find Kaune with his wife Mary, volunteering with the local senior center or serving as an ambassador at the Senior Outreach Service (SOS) at UNR's Sanford Center.
"Working with seniors is my calling and my passion. I have been designated as a Seniors Real Estate Specialist and am a Certified Relation and Transitions Specialist. I'm always looking for ways to work with seniors and make lives easier and more fulfilling. We have a fast growing senior market here in Reno and Sparks and, after some research it was clear that Caring Transitions would be a perfect complement to my experience and would greater enable me to serve seniors in the community," Kaune said.
Caring Transitions' services are ideal for seniors moving in with family or into a safer living situation as well as busy families and people clearing out the home of a loved one who has passed. All of Caring Transitions' services are customizable, so clients only pay for the services they need – whether that means managing the entire move and estate-clearing or just getting someone resettled into their new place.
"I have many years of experience working with seniors, especially in my volunteer work and in real estate. I want people to know that, at Caring Transitions of Reno/Sparks, we can be a resource for a variety of services during this time of transition. We are a one-stop shop for your transition needs, but if you decide that Caring Transitions isn't the solution you're looking for, we can help point you to someone who cares and can help. We are here to serve and make your life easier," Kaune said.
Caring T ransitions of Reno/Sparks is bonded, insured and their W2 employees have been background checked. For additional information, call (775)624-3030, email BKaune(at)CaringTransitions(dot)com or visit http://www.caringtransitionsrenosparks.com/
About Caring Transitions
Caring Transitions, founded in 2006, is the first national franchising concept specializing in senior relocation and transition services. With more than 200 locations throughout the United States all owned and operated by Certified Relocation and Transition Specialists, Caring Transitions provides clients with supportive moves, auctions, rightsizing and transitions. This includes expert advice plus a well-executed transition plan beginning with the initial sorting of personal belongings through packing, shipping and selling of items to the final clearing and cleaning of the property. For more information, visit http://www.caringtransitions.com or visit us on Facebook.