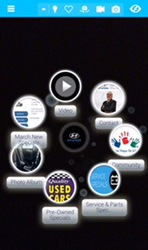 Poppar, the latest Augmented Reality App announces that it has entered into a strategic marketing agreement with Glendale Hyundai to create a more immersive customer experience for its existing and prospective customer base.
GLENDALE, Calif. (PRWEB) March 20, 2018
Poppar, the latest Augmented Reality App announces that it has entered into a strategic marketing agreement with Glendale Hyundai to create a more immersive customer experience for its existing and prospective customer base. Poppar will leverage its innovative App technology by incorporating augmented reality into Glendale Hyundai's marketing communications. Poppar's marketing strategy will also embody reward gamification to further engage the customer, enhance the overall experience, and boost lead generation and sales conversion.
The Poppar Augmented Reality App changes the marketing dynamics for Glendale Hyundai by making the experience fun and inclusive for all family members. Using the Poppar App, Parents can easily see detailed car information such as specials, inventory and financing, all while their kids hunt in the Glendale dealership for prizes similar to the augmented reality experience of Pokémon Go(R).
"Glendale Hyundai is committed to offering real prizes, not virtual ones like other Apps," says Jae S. Park, General Manager of Glendale Hyundai. "We will be awarding multiple grand prizes each month that include 'Free 1 Year Leases' on selected Hyundai vehicles to users that play one of Poppar's Augmented Reality games and win. You have the ability to drive away in a free car just for playing our free game on your cellphone." *
Poppar Codes are like an evolution of QR codes applying Augmented Realty to deliver real time instant information where a user doesn't need to leave the app or visit a 3rd party site. The entire user experience is controlled within the app, allowing a user to scan an advertisement from the newspaper, or directly from a window sticker. Poppar offers a frictionless experience of providing key details directly presented on the Poppar App.
"Today's consumers are bombarded with several thousand advertisements on any given day across numerous marketing channels, creating sensory overload and diluting the effectiveness of traditional marketing communications," says Jason K. Bordbar, MBA, Chief Marketing Officer for Poppar. "Technology like the Poppar Augmented Reality App can combat such fatigue based on the immersive user experience which serves to engage the consumer with more emotional connections, all of which can ultimately lead to a stronger return on marketing investment via increased website traffic, generated leads, conversion rates and sales."
The ubiquity of cell phones combined with fast Internet promises significant growth in the Augmented Reality field. Poppar has a clear strategic plan in place to be a leading Augmented Reality content provider for businesses around the world.
"Poppar's Augmented Reality App offers a more exciting way for companies to increase brand awareness and interact with consumers on a new platform merging the digital and analog world into one," says Benik Hovsepian, President of Poppar. "And our analytical data shows that our clients not only have higher success rates compared to traditional advertisements, they also reduce their marketing budgets and generate better results."
For more information on Poppar's strategic Augmented Reality marketing campaign services, email pr(at)popparapp(dot)com or visit http://www.popparapp.com. The Poppar App is available for immediate download at the Apple and Google Play store.
About Poppar
Poppar is a new Augmented Reality solution that delivers content via a Poppar code. The Poppar code is analogous to a more advanced QR code. Traditional QR codes only present minimal information or a redirect to a 3rd party website. Poppar codes provide a friendlier, more aesthetic looking code tied with a user experience that is next generation. Using a phone or tablet a user scans a Poppar code, the code then displays via the Poppar App a wealth of rich content and media directly on the App. The user never leaves the app, and the experience is frictionless, instant and informative. For more information visit http://www.popparapp.com.
About Glendale Hyundai
Glendale Hyundai is a new and used car dealership in Glendale, CA serving Burbank, Pasadena, Arcadia, and Santa Clarita drivers. Glendale Hyundai features an extensive inventory of brand new models, like the versatile Hyundai Elantra or the durable Santa Fe, as well as financing options. Glendale Hyundai is committed to proving the best customer experience possible for all your automotive needs. For more information visit our website at: http://www.glendalehyundai.com
Pokémon(R), and Pokémon Go(R) are registered trademarks of NINTENDO OF AMERICA INC. No endorsement has been made by NINTENDO OF AMERICA INC.
*Restrictions apply. No purchase necessary. Win up to 12 free months off of a 36-month lease based on the national ad for all models advertised. All based on a 36-month lease at 10k miles per year with all applicable rebates and designated down payment depending on the model. Visit poparapp.com/spin/rule.htm for full terms and conditions.