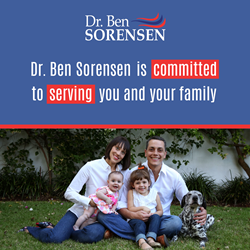 FORT LAUDERDALE, Fla. (PRWEB) March 20, 2018
Lift Digital Media, (http://liftdigitalmedia.com) a full service digital agency and consulting group based in Fort Lauderdale, recently completed a full digital marketing initiative to support Ben Sorensen for Fort Lauderdale City Commissioner District IV. The digital marketing solution included on-page content, graphics, a video series featuring Ben Sorensen and a strategic targeted advertising campaign to reach key voters in Fort Lauderdale's District IV.
Lift's advertising team designed and implemented a series of targeted online advertisements to deliver content supporting Ben Sorensen to key voters in Fort Lauderdale. Dubbed "supervoters," Lift targeted individuals who reside in District IV and frequently vote in off cycle elections with content that included Sorensen's campaign promises, key issues, get out the vote, and videos discussing problems facing Fort Lauderdale and how he intends to solve them. The served content received sizeable interaction from potential voters who asked questions and commented on issues. Ben Sorensen himself responded to many of the voters in order to directly connect with his constituents.
In addition to targeted advertising, Lift's video team directed and filmed a series of videos starring Ben Sorensen discussing key issues of his campaign. The videos were edited and strategically placed on social media throughout the length of the campaign, promoted to supervoters utilizing the same Lift-designed algorithm.
"Hyper-targeting allowed us to reach the right people at the right time," stated Jonathan Brownfield, CEO of Lift Digital Media. "Without the expansive targeting tools at our disposal, the Sorensen campaign would not have been able to get their message directly to supervoters leading up to election day."
Ben Sorensen was elected City Commissioner of District IV on March 13, 2018, via a 55-vote victory over opponent Warren Sturman.
To learn more about hyper-targeting and other Lift Digital Media solutions, contact claudia@liftdm.com.
About Lift Digital Media
Lift Digital Media is a full service digital agency and consulting group based in Fort Lauderdale, Florida. Lift specializes in creating social media, online advertising, video and email marketing campaigns for various verticals including: automotive, marine, healthcare, sports, lifestyle and politics. Lift uses big data to create hyper-targeted campaigns in order to reach specific online users utilizing detailed information on location, age, gender, income, education, household composition, political preferences, shopping habits, travel habits, interests, and even online behavioral patterns. To learn more, visit http://liftdigitalmedia.com and follow Lift on Facebook and Twitter.