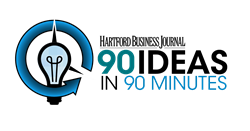 HARTFORD, Conn. (PRWEB) March 20, 2018
Back by popular demand, the Hartford Business Journal's dynamic breakfast program, 90 Ideas in 90 Minutes, will take place Tuesday, April 3 at the Hartford Club in Hartford, Conn. In just 90-minutes, attendees will learn the top ten business tips of some of the region's leading executives and entrepreneurs.
"We are excited to bring back the popular '90 Ideas in 90 Minutes' networking breakfast," Joe Zwiebel, president and publisher, Hartford Business Journal, said. "Last year's event was our first and the feedback we received from attendees was overwhelming. This event is a great way for professionals to learn a lot of actionable tips in a short amount of time from some of the best and brightest in our community."
The second annual event will offer Connecticut professionals and business owners access to nine of the region's top thinkers and most successful executives. Each will share their 10 best ideas that have helped make their businesses thrive. In just 90 quick minutes, attendees will walk away with over 90 proven practices, programs, or philosophies that can help strengthen their own business.
The 90-minute master class will be comprised of nine individual presentations. This year's presenters include:
Michael Cantor, Co-Managing Partner, Cantor Colburn LLP
Patrick Dempsey, President & CEO, Barnes Group Inc.
Jeff Flaks, President, Hartford HealthCare
Rohan Freeman, Founder & President, Freeman Companies
Joe Gianni, Market President for Hartford, Bank of America
Bonnie Malley, Vice President, Finance & Administration, Hartford Foundation for Public Giving
Felix Rappaport, President & CEO, Foxwoods Resort Casino
Curtis Robinson, Owner, C&R Development Co., and Philanthropist
Carla Squatrito, Founder & President, Carla's Pasta
Presentations will be preceded by networking, registration and breakfast. Tickets for the program are $60 per person. All attendees must register in advance. To register, visit http://www.hartfordbusiness.com.
The Education Leadership Sponsor for 90 Ideas in 90 Minutes is UConn School of Business. Event sponsors are Comcast Business, Cox Business and Emcor Services / New England Mechanical. Event partners include: The Hartford Club, Merritt Graphics, J. Fiereck Photography, Rider Productions, and Co-Communications, Marketing and Public Relations.
About Hartford Business Journal
Hartford Business Journal is the only audited weekly, subscription-based business publication in Connecticut. Whether it's market trends, the latest merger news or an update on state government, this award-winning weekly is the "must read" for area business leaders. Hartford Business Journal has a total readership of 31,000 affluent and educated business decision makers in the 61 towns that make up Metro Hartford. For more information, please visit http://www.hartfordbusiness.com or call 860.236.9998.