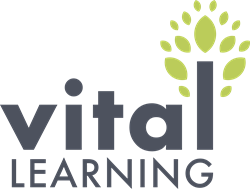 If the learner doesn't expect the skills they've learned to transfer over to their professional lives, the training has failed
DENVER (PRWEB) March 21, 2018
User experience matters now more than ever in professional training, as people increasingly expect the everyday products and services they use to be intuitive, enjoyable, and connected. Everything from shopping malls to our smartphone apps are being redesigned from the ground up to satisfy the next generation of consumers, but professional training and development has historically lagged behind. To keep up with today's consumer and our rapidly changing world, training solutions must prioritize user experience (UX), and optimize accordingly. The four main components of UX are:
1. Value
2. Usability
3. Desirability
4. Relevancy
Here's why each of these components matter and how one company, Vital Learning, a 2018 Leadership Training Top 20 Watch List provider, is implementing them into their solutions.
1. Value: If a user feels that they're wasting their time while using your solution, then there's little to no chance of a successful outcome. Humans naturally seek activities that better our lives in one way or another, so it's critical that your product feels useful to the participant. If the learner doesn't expect the skills they've learned to transfer over to their professional lives, the training has failed. For example, Vital Learning brings value by utilizing real-world scenario practice, which allows users to prepare for actual workplace situations in a safe and accepting learning environment.
2. Usability: Setting up new training at an organization should be as straightforward as possible. A steep learning curve can frustrate participants, and cause them to associate your courses with negative emotions before the training even begins. An intuitive setup process, friendly and familiar use of language, and exceptional end-user support are a few good ways to insure speedy adoption of your solution. By using these practices, and offering three different formats for their courses (classroom, online, and blended), Vital Learning creates a highly usable and flexible learning solution and makes implementation pain free.
3. Desirability: The term "leadership training" tends to spur mental images of boring slideshow presentations, lecture-heavy class, and long lists of text that are dense and detailed. Breaking this mold is the only way to stand out as a learning solution, and to make your participants look forward to improving their skills. Some tools that Vital Learning uses to increase the desirability of their training are experiential exercises, scenario-based activities, continual practice opportunities, virtual immersive role play, and skill reinforcement via a mobile app.
4. Relevancy: When people visit certain apps and websites, they expect the content to be customized to their tastes and interests. Everything from your Amazon.com homepage, Spotify playlist, and email inbox is tailored based on what's relevant to you. "One size fits all" usually doesn't work for today's consumer. Likewise, broad and generic training solutions typically fail to resonate with learners, as they're not practicing the situations they will actually face in their role at their company. Vital Learning addresses this by designing a proven framework that can be easily customized for the industry, organization, and individual. This enables skill practice and reinforcement that is both relevant and relatable for participants.
User experience matters. The consumer technology industry has recognized and prioritized this for a long time. Now, workplace learning is starting to catch up and take notice. This is evidenced by Vital Learning, who heavily emphasizes contemporary UX in its learning design, earning a spot on Training Industry's prestigious 2018 Leadership Training Top 20 Watchlist.
About Vital Learning:
Over one million managers worldwide use Vital Learning's innovative and proven approach to skills development. Vital Learning's experiential classroom training, responsive online micro-learning, immersive skill practice solutions, and built-in reinforcement deliver unmatched quality and tangible results.
About Training Industry, and the Watch List.
Training Industry, the most trusted source of information on the business of learning, released the 2018 Top Training Companies selections for the Leadership Training sector. Training Industry prepares Top 20 and Watch List reports on critical sectors of the training marketplace as part of its mission to continually monitor the market for the best providers of training services and technologies.