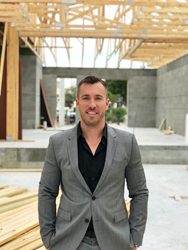 (PRWEB) March 21, 2018
Haute Residence welcomes acclaimed broker, Bill Reiman to its prestigious real estate network. As a Haute Residence partner, Reiman exclusively represents the high-end real estate market on Marco Island, Florida.
Reiman is the founder of The Brokerage Real Estate Refined, a high-end real estate brokerage representing clients in Marco Island. Before launching The Brokerage in 2017, Reiman was very successful in assisting clientele in buying and selling new and older homes. He has a proven sales track record of millions of dollars sold in residential home sales and vacant land sales and is a top producer in new construction sales year after year at a young age.
A native of Marco Island, Reiman has 26 years of local knowledge of the area and constantly keeps up with and studies market trends. A skilled negotiator, he brings more than a decade of real estate and construction experience to every client he works with. Reiman takes a more detailed approach to the residential real estate market while maintaining a high degree of service and work ethic; he has helped investors, individuals, families, and friends build and acquire some of Marco Islands premier properties.
Growing up in the construction business with a father who is an award-winning custom home builder and having worked in construction for over 15 years building luxury new homes with his family-owned construction business R.K. Reiman Construction Inc., Reiman uses this knowledge to help guide clients to make the right purchase. He knows what to look for in homes to help prevent a nightmare purchase. With his construction knowledge, Reiman also specializes in selling luxury homes where he can explain every detail to a potential purchaser and show details a potential buyer would have never seen before. Being one of the few agents on Marco Island who are in the construction business definitely makes Reiman stand out above the rest.
Reiman's background in construction, architecture, design, and negotiation provide him with experience that his clients need for any real estate transaction. Reiman's goal is to give the best representation possible to every client. As a young real estate broker, he strives for success for himself and every agent that works for him. Everything Reiman has learned he had passed onto his agents and created a culture of collaboration between agents using their talents, resources, and networks to serve their clients every step of the way.
About Haute Residence:
Designed as a partnership-driven luxury real estate portal, Haute Residence connects its affluent readers with top real estate professionals, while offering the latest in real estate news, showcasing the world's most extraordinary residences on the market and sharing expert advice from its knowledgeable and experienced real estate partners.
The invitation-only luxury real estate network, which partners with just one agent in every market, unites a distinguished collective of leading real estate agents and brokers and highlights the most extravagant properties in leading markets around the globe for affluent buyers, sellers, and real estate enthusiasts.
HauteResidence.com has grown to be the number one news source for million-dollar listings, high-end residential developments, celebrity real estate, and more.
Access all of this information and more by visiting: http://www.hauteresidence.com