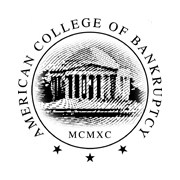 STANARDSVILLE, Va. (PRWEB) March 23, 2018
The American College of Bankruptcy (the "College") announced today its 2018-2019 Officers and Board of Directors. The newly elected leadership was voted in at the College's recent annual meeting held in Washington, DC on March 17, 2018.
The 2018-2019 Officers are:
Marc A. Levinson (Chair)
Mark D. Bloom (President)
James L. Baillie (Vice President)
Hon. Joan M. Feeney (Vice President)
Grant T. Stein (Vice President)
Melissa S. Kibler (Treasurer)
Taft A. McKinstry (Secretary)
R. Patrick Vance (Counsel)
The members of the 2018-2019 Board of Directors are:
Marc Abrams
Agustin Berdeja-Prieto
Daniel C. Cohn
Dennis J. Connolly
Lawrence D. Coppel
Jeffrey H. Davidson
Karen A. Giannelli
Jan M. Hayden
Annette W. Jarvis
James R. Kelley
Eric W. Lam
Hon. Neil P. Olack
Norman L. Pernick
Catherine Steege
Robert J. van Galen
Jane L. Vris
Incoming Chair Marc A. Levinson states, "I am humbled by the honor of serving as Chair of this fabulous organization, and I look forward to working with the outstanding leadership team in carrying out the College's mission."
Incoming President Mark D. Bloom declares, "The College always has been graced with great leadership. Indeed, all of our Fellows have been leaders and achievers in their professional and civic endeavors, and I am honored by the opportunity to serve as President alongside Marc Levinson as our Chair."
The American College of Bankruptcy is an honorary association of bankruptcy and insolvency professionals and plays an important role in sustaining professional excellence in the field. College Fellows include commercial and consumer bankruptcy attorneys, judges, insolvency accountants, turnaround and workout specialists, law professors, government officials and others in the bankruptcy and insolvency community. The College offers unique and challenging educational programs and publications, maintains the National Bankruptcy Archives at the University of Pennsylvania School of Law, and, in conjunction with the American College of Bankruptcy Foundation, is believed to be the single largest financial supporter of pro bono consumer bankruptcy services in the United States, having funded approximately 1.6 million dollars of grants during the past four years.