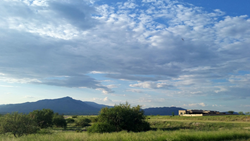 At Red Hawk, homeowners can enjoy starry nights and peaceful days just minutes from where they work.
TUCSON, Ariz. (PRWEB) May 03, 2018
A group of local investors has formed Red Hawk Ranch Properties to re-organize debt and energize the sales of homesites, as residential real estate in Southern Arizona continues its forward momentum.
Red Hawk at J-6 Ranch is a master planned community of 388 custom home lots, encompassing approximately 1,600 acres just 30 minutes from Tucson International Airport
The Red Hawk community features wide open space and a tranquil environment away from the city, yet is just minutes away from healthcare, shopping and the amenities of modern life.
Red Hawk is organized into four phases of development, with lots that are 3 acres or larger. Phase 1 is sold out, and lots in phases 2 and 3 are improved with roads and utilities or will soon be fully improved. Phase 4 has been platted for future improvements.
Red Hawk sits at an altitude of 4,300 feet for year-round, cordial climate with over 300 days of sunshine annually. Red Hawk 's country living and comfortable temperatures, appeal to a variety of residents who are transplants to Southern Arizona or who are employed in the area.
Employment in Southern Arizona is expected to rise due to several factors including the Rosemont Copper Mine, predicted to be the third largest copper mine in America, Raytheon Missile Systems adding 2,000 jobs over the next five years, and Caterpillar adding 600 jobs over the next five years. As the cities of Tucson and Benson grow, there is increased demand for lifestyle housing choices. Managing Partner Rodger Ford added "At Red Hawk, homeowners can enjoy starry nights and peaceful days just minutes from where they work."
.
Several Southern Arizona home builders have partnered with Red Hawk to design and build homes of 2,000 square feet or larger, with numerous options available, such as a class A motorhome garage.
Red Hawk offers limited horse lots on its western boundary, with direct access to open country trails and the nearby Cienega creek and Whetstone mountains.