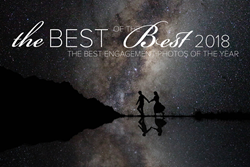 (PRWEB) May 15, 2018
On May 15, 2018 Junebug Weddings revealed the top 50 engagement photos from the past year in its sixth annual Best of the Best Engagement Photo Collection.
Junebug Weddings has been hosting photography contests for the last nine years and this year's contest brought in nearly 6,000 image submissions from photographers around the globe. The top 50 images comprise the collection.
World-renowned wedding photographers Helena and Laurent, Don + Helen, and Kristen Marie Parker assisted the Junebug Weddings team in judging the contest.
"With the help of our uber talented judging panel, we were able to curate a seriously awe-inspiring collection of engagement photos for this year's engagement contest. We're beyond excited to share these images with the world and we're hopeful that people everywhere will fall in love with this collection as much as we have," said Carrie Schwab, General Manager and Editor in Chief of Junebug Weddings.
Winning a Junebug Weddings Best of the Best photography contest is one of the highest honors a wedding photographer can receive. It can jumpstart a photographer's career, build credibility in the industry, and connect winners to new and exciting opportunities. Acclaimed wedding photographers Fer Juaristi, Chrisman Studios, and Jose Villa have all had winning images in Best of the Best contests.
The next contest that Junebug Weddings will host is its annual Destination Photography contest, which opens on July 16th.
About Junebug Weddings: Junebug Weddings is an international wedding website that inspires artistic couples around the world while connecting them with the best vendors in their region. As a leader in the wedding industry, Junebug curates these image collections to celebrate the artistry of wedding photography. In addition to its Best of the Best Engagement Photo Contest, Junebug hosts their Best of the Best Wedding Photography Contest every winter, as well as their Destination Photography Contest in the summer. You can view Junebug's past contest winners by visiting the 2017 Best of the Best Engagement Collection, the 2017 Destination Photography Collection, and the 2017 Best of the Best Wedding Collection. To learn more about becoming a Junebug Weddings member, please visit our contact page for information regarding our application process.