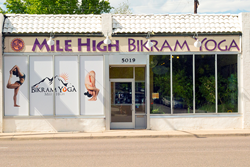 This form of yoga has numerous benefits, like the ability to heal diseases, illnesses, and even injuries.
DENVER (PRWEB) June 05, 2018
Bikram Yoga Mile High, a Denver-based yoga studio that specializes in Bikram Yoga, known as a 90-minute series of 26 postures and 2 breathing exercises, this week excitedly announced they just celebrated their 10-year business anniversary.
To honor their accomplishment, the studio will be hosting a party on Saturday, June 9th starting at 6:30PM with food and beverages provided. Bikram Yoga has become an increasingly popular form of yoga among yogis today.
"Officially opening our doors to the Denver community over a decade ago, we can't believe we're already celebrating our 10-year anniversary," said Samantha Phung, Founder and Owner of Bikram Yoga Mile High. "Believing in the physical and mental power of Bikram Yoga, we have helped thousands of people align their mind, body, and spirt while witnessing far-reaching, sustainable benefits."
Taking place in a room that is heated to a minimum of 105ºF to keep muscles warmed while flushing toxins and improving circulation, Bikram Yoga systematically moves fresh, oxygenated blood to every cell, working with the muscle, bones, tendons, ligaments, joints, and glands in the proper sequence. The resulting postures synergize the mind, body, and spirit for optimal health.
"This form of yoga has numerous benefits, like the ability to heal diseases, illnesses, and even injuries," said Phung. "Scientifically, it comes with a rejuvenating and energizing effect that can be witnessed both mentally and physically. Most impressively, this form of yoga is highly therapeutic for people of all fitness levels – and even ages."
Bikram Yoga is consistently recommended to individuals who suffer from chronic injuries, have fallen out of shape, or live with a range of medical problems that hinder their quality of life.
Some of the most notable Bikram Yoga benefits include: proper weight sustainment, increased energy levels, stress and anxiety reduction, expanded lung capacity, flushed lymphatic systems, balanced endocrine systems, improved spinal strength, strong heart health, lubricated joints, strengthened bones, and increased mental clarity and well-being.
"The case for Bikram Yoga is indisputable, which is why our entire team is incredibly passionate about providing a soothing, quality, and safe space for our yogis to practice in today," said Phung. "Spread the word on our forthcoming celebration, and come join us as we reflect on 10-years of community immersion here in Denver."
Visit their: Facebook
Visit their: Website
Visit their: Youtube