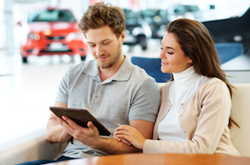 "Some dealers are worried that technology takes people out of the equation. Nothing could be further from the truth. Technology doesn't replace sales and F&I people, it enhances the experience for the customer. It's still about relationships. The key is meeting and engaging customers on their terms
ALPHARETTA, Ga. (PRWEB) June 11, 2018
In response to dealer request, Rebecca Chernek of Chernek Consulting, LLC, announced a new workshop, Mastering F&I in a Digital Age, to quickly get dealers up-to-speed with online F&I. The workshop is slated for July 17, 18 and 19 in Alpharetta, GA.
"Traditional F&I is under assault. I developed this workshop to help dealers stop the bleeding caused by online lenders, which are rapidly gaining market share. It's basically an intervention," said Chernek. "The success of disruptors – and dealers who are offering self-desking on their websites – reflects hard truths dealers can no longer ignore."
According to Chernek, the new workshop is based on current market dynamics:
1) Customers can – and do – obtain not only financing, but also F&I products, completely online via lenders and dealers who offer self-desking. In January 2018, AutoGravity had 1 million users and was attracting 150,000 new users a month.
2) Today's customers want to:

Be fully informed – and receive immediate answers to questions
Control the transaction
Choose from flexible financing options in the no-pressure sanctity and privacy of cyberspace
Get as much of the deal done online as possible – then come to the dealership to sign paperwork and take possession
Experience a simple, efficient and transparent vehicle purchase or lease
3) For dealers, the opportunity to engage – or lose – a customer starts when the customer lands on the dealer's website. If a dealer doesn't immediately respond to a customer's query, a competitor is happy to fill the void.
4) Employee retention is dropping.
5) Used car sales are dropping.
6) It's projected that the industry will experience more shrinkage in sales in 2019.
Mastering F&I in a Digital Age provides A to Z training in:

Selecting plug-ins to upgrade websites to offer self-desking
How to integrate online financing capabilities with the flow of in-dealership operations to create a seamless process for the customer
How to engage and capture customers as early as possible in the process
Why menus are still a powerful sales tool and how to maximize their potential.
"The president of General Motors recently announced at a conference that he believes the automotive industry will experience more change in the next five years than it has in the past 50 years," said Chernek. "Customers are time-starved and have turned to technology to make life easier. Dealers have to respond accordingly. Operators who are clinging to old ways are clearly feeling the pain. This workshop will help them catch up and compete in today's rapid-fire digital marketplace.
"Some dealers are worried that technology takes people out of the equation. Nothing could be further from the truth. Technology doesn't replace sales and F&I people, it enhances the experience for the customer. It's still about relationships. The key is meeting and engaging customers on their terms in their comfort zone – establishing that touchpoint earlier – online."