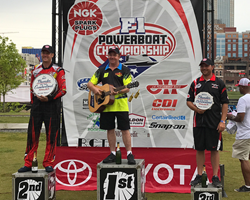 In the Formula One class, Nashville's own #57 David McMurray, the owner of Nashville Marine, and his good friend, #53 John Edde, are fierce competitors on the course and are coming to Nashville to push each other and climb the ranks in F1.
NASHVILLE (PRWEB) June 12, 2018
Follow the NGK Spark Plugs Formula One Powerboat Championship to Nashville, Tennessee on Father's Day weekend, Friday, June 15, and Saturday, June 16, 2018, for the 3rd Annual "Thunder on the Cumberland" and witness what it's like to watch more than twenty 250hp race boats turn into a fleet of rockets and sprint from 0 to 100 mph in 5 seconds!
Fans will gather at Riverfront Park on Lower Broadway in downtown Nashville, TN to witness the 120+ mph, deck-to-deck boat racing action on the tight Cumberland River course, while enjoying food, family-friendly attractions, cold drinks, and more. The high banks of Riverfront Park and the nearby pedestrian bridge create an ideal location to capture a 360-degree view of all the racing action. Along with the celebrated Formula One racing hulls, the event will feature Tri-Hull, Formula Lights and J Hydro rockets to thrill the crowd.
Organizers are hoping Mother Nature will be a little kinder to the drivers in 2018 after last year's rains forced racers to dodge floating debris and wrestle the swift currents. Organizers expect more than 50 race boats to roll into Nashville, with 21 of those being in the fastest class: Formula One.
Seven different winners have made an appearance on the podium in the first two races of the 2018 NGK Spark Plugs Championship. So far, we have not seen any repeat winners but will this trend end in Nashville? The competition this season has been intense, with a number of drivers running so close that only 38 points separate the top three F1 drivers in the Series' points chase.
The racing retirement of last year's winner and 2017 NGK F1 series champion, Terry Rinker, means the door is now wide open for a brand-new Nashville champion in Formula One. Current NGK Series leader, #24 Spencer Love of California, is fresh off his June 3rd victory at Gulfport, FL, and is ready to repeat that win at Nashville. Another California driver, #53 Greg Foster, who was runner-up at Gulfport despite a number of mechanical malfunctions, is hungry for a win and no doubt will be putting pressure on Love for that top spot.
#20 Ashton Rinker of Riverview, FL – son of last year's Nashville winner – currently sits in 2nd place in the points chase by a margin of only 12.5 behind Love. A Nashville win for Rinker could easily put him back on top.
Other racers to watch:
Four-time National Champion and winner of the first NGK F1 race of 2018, #24 Tracy Hawkins from Willis, TX, will bring his bright purple and yellow Seebold hull to the Cumberland, hoping all the mechanical gremlins he experienced in Gulfport have been resolved. Hawkins, also known as "T-Hawk", is a mentor for some of the younger Texas drivers, including #4 Wesley Cheatham, who sits 4th in the series point standings.
Rivals:
In the Formula One class, Nashville's own #57 David McMurray, the owner of Nashville Marine, and his good friend, #53 John Edde, are fierce competitors on the course and are coming to Nashville to push each other and climb the ranks in F1. But after the race boats are put back on their trailers, these two drivers become best friends once again, helping each other so they can run their best. Edde and McMurray both have decades of experience in the world of fast boats but are relatively new to Formula One.
In the Formula Lights class, points leader #8 Jeremiah Mayo, the Round #1 Port Neches, TX winner, is currently dominating the points leaderboard by more than 100 points after his second-place victory in the turbulent surf at Gulfport. Hoping to narrow that gap is #40 Austin Cheatham of Texas, who endured a grueling Gulfport race, crashing in the 3rd heat, then patching the boat back together well enough to cinch 3rd place in the final. Cheatham sits in second place in the points chase.
Rookie driver, #13 Grant Schubert, finished 6th in Port Neches, TX and 5th in Gulfport, FL, but has been methodically collecting valuable points at each of the events, and now sits in third position in total point standings.
Two brand new female racers from different parts of the country have joined the Formula Light class in 2018; #01 Kelly Ireland from California and #45 Debby Mobley of Kentucky. Kelly Ireland, a former champion ski-racer and teammate of F1 driver, Greg Foster, surprised the contingent at Gulfport and revved up the Girl Power to take first place, which was her first ever victory. Mobley, who enjoys an assortment of rugged outdoor sports when she isn't racing, has teamed up with long-time friend, F1 driver John Edde, and will be piloting her bright orange racing craft in only her second race.
Tri Hull – less than 6 points separates the top two drivers. We have had 5 different heat race winners out of 7 heats.
In the Tri-Hull class at Gulfport, it was a "Team Rinker Boat World" sweep, where fans witnessed #52 Chris Rinker work hard to chase down the leader -- his 73 year old father, "Scary" Jerry Rinker in boat #10 -- who held on tight in the wild water to take second. Finishing behind the Rinkers in third place was their teammate, #110 Darryle Middleton. Jeremiah Mayo in boat #8, who won the season opener, will be on hand in Nashville to try and spoil all the Rinker fun.
"Thunder on the Cumberland" fans will also get a chance to watch the youngest boat racers in the country in the J Hydro class. This entry level class features competitive kids – some as young as nine years old – who are just as serious and competitive on the race course as their Formula One mentors. Watch for #16 Jack Schubert who placed 2nd in 2017 and who is the cousin of last year's Nashville J Hydro champ, Natalie Schubert and younger brother of Formula Lights driver, Grant Schubert.
Greenlight TV will film the NGK Spark Plugs racing action all season long, producing six 30-minute shows airing on CBS Sports Network. Watch the "The Gulfport Grand Prix" highlight reel on the CBS Sports Network on Wednesday, June 20, 2018 at 8:30 PM ET, and the repeat show at 11:30 PM ET. The "Thunder on the Cumberland" show will air on Wednesday, July 11th at 7:30 and 11:30pm Eastern.
Follow the series on Facebook at; https://www.facebook.com/NGKF1PowerboatChampionship and watch the exciting LIVE Stream from Nashville's "Thunder on the Cumberland" on Saturday, June 16th at approximately 1:00pm and 4:00pm Central. Times may vary somewhat, due to unforeseen race course situations at the time of the LIVE broadcast.
Visit NGKF1.com for further information about the NGK F1 Series.
2018 The NGK Spark Plugs Formula One Powerboat Championship Racing Schedule:

The NGK Spark Plugs Formula 1 Powerboat Championship is ecstatic to have the strong commitment of title sponsor, NGK Spark Plugs - The Ignition Specialist. Since 1936, NGK Spark Plugs has been the world leader in technology, innovation, and world-class quality in the design of spark plugs and oxygen sensors. Today, NGK manufactures NGK Spark Plugs and NTK Oxygen Sensors for virtually every automotive manufacturer in the world.
NGK has built a reputation for quality and reliability, and a commitment to excellence continues to be the driving force behind the company's advanced research and development programs.
In North America, NGK is headquartered in Wixom, MI and maintains manufacturing, inventory, and distribution facilities in Irvine, CA, Sissonville, WV, and Chicago, IL.
For more information about NGK Spark Plugs, (U.S.A), Inc., please visit our website
http://www.ngksparkplugs.com