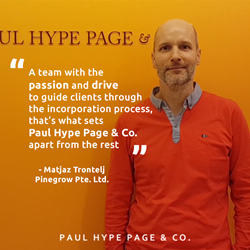 All your business compliance requirement fulfill at Paul Hype Page, your one stop Singapore Company Setup Service Provider.
SINGAPORE (PRWEB) July 14, 2018
In the world of Base Erosion and Profit Shifting ("BEPS") and growing tax transparency, many Singapore company registration service providers tout the "substance package" to solve your difficulties in obtaining your Singapore company's tax residency. If you are a foreign business entrepreneur expanding your company's business into Asia through Singapore Company Incorporation, you don't have to feign substance, you just need to understand the concept of tax substance of your Singapore company even when operating offshore
This way, you will be able to enjoy the benefits of a Singapore Tax Resident without the worry of a tax query or audit coming your way.
The following service offerings in the industry which service providers may allure to as providing international tax planning. At first glance, they may seem to provide a basis for tax residency, we suggest that you look deeper.
1. Nominee resident director(s)
2. Virtual office / Singapore registered Address
3. Administration headcounts
Paul Hype Page & Co offers compliant, effective and practical solutions to help you achieve your growth ambitions.
1. Profession nominee director(s) and employees
Singapore has a vast pool of talent and a growingly flexible workforce. We have access to strong profiles of local professional directors of various industry who are able to provide value to your organisation in strategic decision making. Their network and experience in your industry will be invaluable to your organisation.
For instance, if you are looking to set up a Fintech business opportunities in Singapore, it will be priceless to have a banking veteran as your director, connecting you to C-level decision makers in the finance industry. You will be navigating through the landscape with much ease due to the network, experience and credentials of your professional director.
2. Economical physical office with added networking opportunities
Our team will be able to connect you with co-working spaces, service offices and commercial property agents depending on your needs. This again allows flexibility for expansion without taking up too much cost from your Singapore Company Registration..
The Singapore government has been very supportive of the Singapore start-up Business and there have been a sprout of low cost co-working spaces in the country. These spaces are often the incubators for new businesses where investors seeks out investment worthy businesses, creating a highly interactive growth centric ecosystem for your company.
Internationally, access to a designated premise could count towards substance evaluation. The definition of access varies from country to country. In most accepted terms, it should be a premise where is accessible by lock and key.
3. Devil is in the details
It is not enough to operate in substance, documentation of such is equally important. Besides providing basic annual filing services, your Singapore company registration corporate service provider play an important role in:

Arrange and document regular physical board meetings
Review and safekeep transactions, agreements and contracts entered into by the company
Ensure adherence of transaction terms, especially if it is an intercompany transactions
The list above is not exhaustive as each company's needs differs. A consultation session with one of our professional consultants will start you off on the right foot. Needless to say, we can help you with the application of Employment Pass in Singapore which will take between 7 working days to 2 months.
An added bonus, the Singapore government, in combination with its associates, offer a sizable lists of grants and incentives. While you consider the company's expansion plans, we can also help you navigate through the possible grants and incentives your company may be eligible for.
This is how we believe we can truly add value to your business.
Paul Hype Page & Co.
Paul Hype Page & Co, established in 2008, a Full Practicing Member of Institute of Certified Public Accountants of Singapore (ICPAS) and also registered as a Public Accounting Firm with Accounting and Corporate Regulatory Authority (ACRA). We offer consultancy services relating to Singapore Company Incorporation, Accounting, Auditing, Corporate Tax, employment pass in Singapore and corporate secretary services related to business compliance services.
http://www.paulhypepage.com
contact us at +65 6221 4733
paulhypepage(at)php-cpa.com.sg