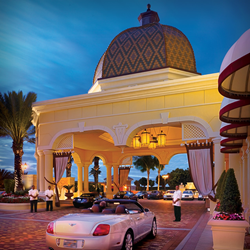 "Our Dream Makers are able to go above and beyond the guests' wildest expectations by creating memories far beyond the ordinary," said Deborah Yager Fleming, CEO & Partner.
MIAMI (PRWEB) July 13, 2018
The award-winning Acqualina Resort & Spa is heralded for its lush oceanfront landscape, five-star amenities, and exquisite accommodations, but above all else, this family-owned and operated, independent resort - where many of the employees have been with the company since inception and one-third of the workforce has been with the company for five or more years - prides itself on the emotional loyalty created through the "WOW Stories" that have helped contribute to the resort's 50% repeat guest ratio. To honor its dedicated team members and cherished guests, Acqualina unveils an original video highlighting the "WOW" Stories with an inside look on how these special moments at the resort are created.
"By hiring a highly qualified, imaginative and empowered team, known as the "Dream Makers," who are prepared and inspired to actively listen, seek out and execute the untapped desires of each guest, these Dream Makers are able to go above and beyond the guests' wildest expectations by creating memories far beyond the ordinary," said Deborah Yager Fleming, CEO & Partner.
Beginning on the beautiful Acqualina beach, these "WOW Stories" unfold with one of Costa Grill's team members conveying how she met a hotel guest who brought her 76 year old mother to Acqualina to enjoy a much deserved break from her cancer treatments. She learned that walks for them on the beach were precious and also discovered that green was the mother's favorite color. She presented the woman with a glass jar filled with 76 sea shells which represented every year of her life leading up to this day and tied it with a green ribbon. At the resort's grand porte-cochere, a valet attendant met a young boy who had a vast knowledge and love of luxury cars. He shared with the boy that Acqualina has the largest collection of independently owned Rolls-Royce vehicles in the world and offered a tour and a luxury drive with his father through Sunny Isles Beach. Upon their return to Acqualina, he presented the boy with a gift of a miniature Rolls Royce car. These are just two of the "WOW" moments represented in the video.
Yager Fleming continues, "The passion to create unparalleled, life-long memories by using their own finesse and expertise has encouraged each team member to consistently outshine themselves every day and has left a lasting impression on all new and returning guests of Acqualina Resort & Spa."
To view the video, please visit http://www.youtube.com/user/AcqualinaFL. For more information, please visit http://www.acqualinaresort.com or call 844.366.8913.
About Acqualina Resort & Spa
Acqualina Resort & Spa is a place where the charm of a Mediterranean villa meets elegance on the beach. A seaside luxury haven located on 4.5 beachfront acres in pristine Sunny Isles Beach, Acqualina Resort & Spa features 98 impeccably appointed guest rooms and suites and 188 residences with breathtaking views of the Atlantic Ocean, world-class dining including Il Mulino New York, three oceanfront swimming pools, spacious meeting rooms and an innovative marine biology-based children's program. A variety of lavish interior and exterior venues provide an ideal background for opulent weddings and memorable events. Acqualina Spa by ESPA, the first ESPA-branded spa in the United States, provides guests with an exquisite 20,000-square-foot, two-story tranquil sanctuary of excellence and relaxation. A family owned and operated property, Acqualina is a recipient of the coveted Forbes Travel Guide Awards for both the hotel and spa and the AAA Five Diamond Award.
Follow us on Social Media: Facebook, Twitter and Instagram.